MyIsuzu Co-Pilot Upgrades AV System On Isuzu F, FV, FX & FY Series Trucks
Isuzu recently introduced a new multimedia unit for the 4x2, 6x2, 6x4, and 4x4 models in its F, FV, FX, and FY truck ranges. The MyIsuzu Co-Pilot AV system offers the mirroring capabilities of Android Automotive and Apple CarPlay, GPS from HERE Navigation, and a host of sleek interface enhancements. Isuzu, for instance, integrates MyIsuzu Co-Pilot with the truck's monitoring systems, including the low-light reverse camera that's standard on the F, FX, and FY series. If the truck is configured with additional external cameras, the MyIsuzu Co-Pilot display gives drivers a convenient way to expand visibility.
"We know people are searching for those small efficiencies that add up to make a big impact, whether it's receiving the most up-to-date traffic information or saving seconds on an inspection routine," says Simon Humphries, Isuzu Australia Limited chief engineer, product strategy.
Key Features
The 10.1-inch HD touchscreen is customisable; operators can program the unit to include a step-by-step process for daily inspections, and it provides quick access to the truck owner's manual. The unit is equipped with two USB ports, as well as smartphone storage pocket. The FV, FX, and FY models include wireless phone charging, and this capability can be added in other Isuzu truck series, as well. The HERE Navigation system can connect to live traffic and recommend the best routes. The system has 32GB of onboard storage for local music and video files, and radio options include AM, FM, DAB+, and internet radio (through a connected smartphone).
Smart Driver Assistance
The medium- and heavy-duty trucks in Isuzu's F, FX, and FY series benefit from Isuzu's suite of Advanced Driver Assistance Systems (ADAS), and Isuzu announced new finishes that further increase safety and efficiency. For example, the 240 PS models in the FRR and FSR series include a new instrument panel, highlighted by a 4.2-inch colour display and updated steering wheel controls. To improve visibility, there are new LED headlamps delivering a wider spread and brighter intensity of light.
"We've chosen to focus on integrating the big-ticket items such as intelligent ADAS safety with a complement of locally designed features such as the new MyIsuzu Co-Pilot AV unit, which combine to make everyday trucking a smarter, efficient and importantly, comfortable prospect," Humphries says.
Find The Right Isuzu Trucks
You'll find hundreds of new and used Isuzu trucks for sale on TruckWorld.com.au, including a number of trucks from the FV, FX, and FY series.
Source: Isuzu
Related Articles
Isuzu FYJ 300-350 8x4 Increases Efficiency & Diversifies Lifting Options For Craneworx
View Details
Isuzu N-Series & F-Series Trucks Form A New Fleet For Sydney's EWH Food Services
View Details
50-Year Glow On Isuzu Truck Of The Year Competition
View Details
Kaszbuilt Constructions Finds Success With Versatile Isuzu Tipper
View Details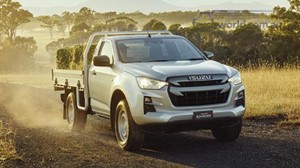 Isuzu Introduces 2022 D-MAX SX Single Cab Chassis 4x2 Series With New Turbo-Diesel Engine
View Details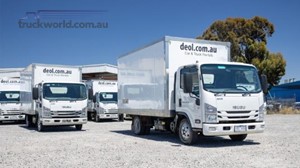 Isuzu NNR 45-150 Trucks Are A Staple For Moving Service-Turned Truck Rental Business
View Details
Landmark Isuzu fire prototype wows AFAC
View Details
View More News
View all Related Ads