Origin Energy Delivers With Isuzu NLR, NPR, & FRD Trucks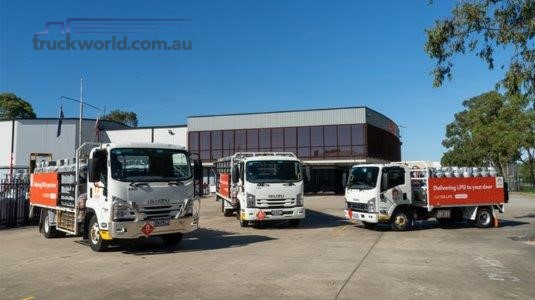 Origin Energy's fleet of approximately 400 liquid petroleum-hauling vehicles includes a fair number of light-duty Isuzu N-Series NLR and NPR trucks and, more recently, medium-duty Isuzu F-Series FRD trucks. Origin uses the Isuzus for cylinder delivery as well as for service and installation.
"This 4.5-tonne to 15-tonne GVM range is predominantly where we use the Isuzu product to meet requirements—where access to the customer premises can be difficult," says Origin National Technical Fleet Manager Mark Witteman. "Isuzu has a very good range that allows us to select the right chassis for the job, based on required payload."
The Isuzu NLR & NPR
Isuzu N-Series trucks are certainly no strangers to Australian roads. The NLR weighs in at a gross vehicle mass (GVM) of 4,500 kilograms (9,920 pounds). Its Euro V-compliant, 3-litre diesel engine supplies 110 kilowatts (148 horsepower) of power and 375 newton-metres (277 pounds-foot) of torque. It's available with Isuzu's six-speed Automated Manual Transmission (AMT) or a five-speed traditional manual gearbox.
The Isuzu NPR ups the torque to 419 N-m (309 lbf-ft) with a 5.2-L, 114-kW (153-HP) Euro V motor. The 4,500-kg truck comes with the buyer's choice of six-speed transmissions including an AMT, a TC-AMT with a torque converter, and a conventional manual transmission.
"The key drivers in truck selection for us in this space are ease of operation and maneuverability, along with comfort and good visibility," Witteman says. "With the day cab and short wheelbase, the NPR and NLR Isuzus assist drivers to complete LPG deliveries in ever-shrinking suburban streets.
"Carrying dangerous goods… we just can't afford breakdowns at any stage in the delivery chain," says Witteman. "Reliability, along with backup support are important not only to the drivers, but to the entire Origin team and our customers."
The Isuzu F Series
Origin, which typically replaces 25 to 30 trucks each year, selected Isuzu's F Series as it upgraded its medium-duty LPG fleet.
"The most common chassis we use now is the FRD 107-210 AMT with airbag suspension. It's primarily for cylinder delivery, with a custom body and tailgate for easy handling," Witteman says. "The trucks are equipped with a custom-built service body with toolboxes and a crane to lift larger cylinders."
The 11-tonne (12-U.S.-ton) FRD has a fuel-efficient, four-cylinder, 5.2-L 4HK1 diesel engine with a high-torque, two-stage turbocharger. The motor produces 191 kW (256 HP) and 761 N-m (561 lbf-ft) of torque. Origin's FRDs come with an AMT transmission and the fuel-conserving Idle Stop System (ISS).
The FRD also features an ISRI 6860 air suspension driver's seat with lumbar support. "Certainly, one area that has been well received is the quality of the ISRI suspension seat. Our drivers have no issue finding comfortable settings," Witteman says. "The truck also provides good visibility with large electric and heated mirrors."
Safety is a top priority for Origin, so its FRDs come with speed limiters, a reverse camera, and a park brake alarm. The trucks also include Anti-lock Braking (ABS), Isuzu's Stability Control System (IESC), a Hill Start Aid, and an Anti-Skid Regulator.
Source: Isuzu
Related Articles
Isuzu Trucks driving the Queensland Open again in 2016
View Details
Isuzu N Series a breath of fresh air out West
View Details
A truck for every job in Isuzus Ready to Work range
View Details
Tradepack ticking all the right boxes
View Details
Tomorrows Trucking Today An experts guide to the future of road transport
View Details
Isuzu purpose built Dual Control is AWRE inspired
View Details
Isuzu Cubics first line of defense
View Details
View More News
View all Related Ads