S&J Australian Scrap Tyre Disposals Keeps Drivers Happy With Two New Isuzu FXY 240-350 6x4s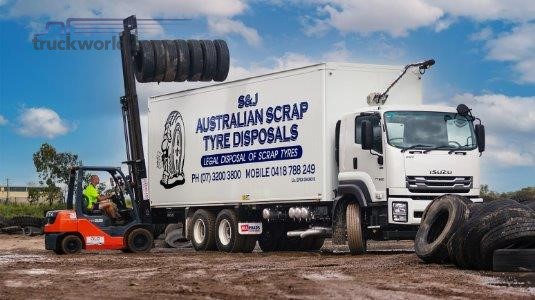 Pushing up to 100,000 kilometres (62,138 miles) per truck per year, S&J Australian Scrap Tyre Disposals' operators put in a lot of time in the driver's seat, and by investing in Isuzu trucks, the firm is making an investment in its drivers. Most recently, S&J purchased two Isuzu FXY 240-350 6x4s with walking floor bodies to expand its interstate tyre disposal service.
"They're such a good upgrade for the workers, we'll be looking at buying another two trucks with the same configuration before the year's end," says S&J owner Steve Hayes. "Our recent purchases have all been trucks with automatic transmissions to reduce driver fatigue and for ease of operation."
Reducing Manual Labor By 50%
Tyre collection and disposal is typically a job requiring a lot of manual handling, and Hayes estimates that the new FXY trucks with manual walking floors cut manual labor in half. "We have a forklift behind the truck, so there is zero manual lifting involved in our local heavy truck tyre operation, and the roll-over tarp is fully automatic, you just press a button and tarp goes right over the load" explains Hayes. "Instead of taking an hour to unload a truck, we're doing it in a very economical eight minutes now." And with the continued shortage of drivers, it's critical for Hayes to keep S&J's experienced truck drivers content. "That's where we want to be for all our drivers in the future—with none of them having to do any heavy lifting or manual handling."
The S&J Fleet
Although the Isuzu FXY 240-350 trucks are a favorite of S&J drivers, the firm's fleet includes 13 Isuzus in total. The range of models, from the light-duty NPR 65-190 to several models in the F Series, allow S&J to efficiently remove tyres and rubber for clients large and small. The FX Series represent Isuzu's heavy-duty range, including 10 models with 4x2, 6x2, and 6x4 axle configurations, as well as manual and auto transmissions.
The Allison automatic transmission is a popular one for S&J. "The Allison auto in the FXY is bulletproof," Hayes says. "The drivers fight over the trucks, they just love them."
Source: Isuzu
Related Articles
Isuzu Trucks driving the Queensland Open again in 2016
View Details
Isuzu N Series a breath of fresh air out West
View Details
A truck for every job in Isuzus Ready to Work range
View Details
Tradepack ticking all the right boxes
View Details
Tomorrows Trucking Today An experts guide to the future of road transport
View Details
Isuzu purpose built Dual Control is AWRE inspired
View Details
Isuzu Cubics first line of defense
View Details
View More News
View all Related Ads