St Marys Scrap Recycler Adds New Isuzu NNR 45-150 Truck With Light Crane & Caged Tray Body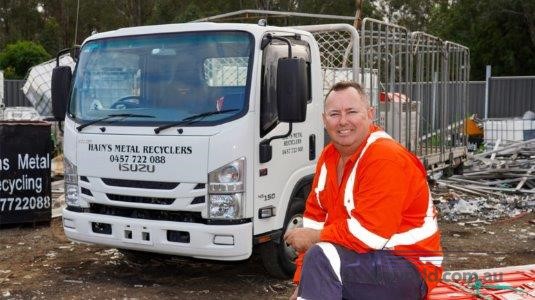 Brad Johnson started Hains Metal Recyclers 11 years ago with a 20-year-old used Isuzu truck and a workshop in his backyard. Back then, he would collect scrap from manufacturing facilities and process it to increase its value, which included pulling screws out of aluminium and other tasks. He would then turn around and sell the scrap to other companies.
Sticking With The Isuzu Brand
Today, Johnson's company, which is based in the Sydney suburb of Saint Marys, continues to rely on Isuzus to get the job done and recently added a new NNR 45-150 with a light crane and caged tray body. The latest addition has a gross vehicle and gross combination mass of 4,500 and 8,000 kilograms (9,921 and 17,637 pounds), respectively. It's also powered by an engine that produces 148 horsepower (110 kilowatts) and up to 375 newton-metres (277 pounds-foot) of torque.
One big benefit of the truck is that it can be driven with a car license. "The NNR 45-150 is a great model to continue to grow the business," says Johnson. "I can put my staff into it and send them into those less-accessible areas of this city, and feel confident it's going to make its way back to the yard at the end of the day." Based on Johnson's past and current experience, he says whatever his next truck is, "it's always going to be an Isuzu."
Fueling Hains' Sustainability Goals
While recycling such materials as aluminium, plastic, and wood is the business model for Hains, it's also part of the firm's overall sustainability approach. In fact, Johnson and his team will often visit landfills to find thrown-away items that could be repurposed for future use. "A large percentage of the stuff I see get dumped into landfill could be recycled," says Johnson. "We're seeing some positive steps being taken now towards a more sustainable future, but there's still a lot of work to be done. I'm conscious of doing as much as I can for the environment, while still putting food on the table for my family."
Source: Isuzu
Related Articles
Isuzu Trucks driving the Queensland Open again in 2016
View Details
Isuzu N Series a breath of fresh air out West
View Details
A truck for every job in Isuzus Ready to Work range
View Details
Tradepack ticking all the right boxes
View Details
Tomorrows Trucking Today An experts guide to the future of road transport
View Details
Isuzu purpose built Dual Control is AWRE inspired
View Details
Isuzu Cubics first line of defense
View Details
View More News
View all Related Ads