Isuzu introduces major upgrades to its 2018 model Year D-MAX and MU-X vehicles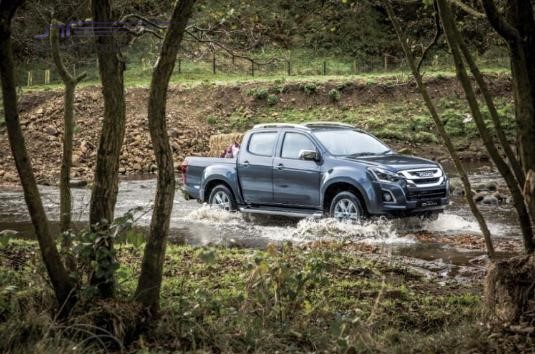 Isuzu recently announced some new updates to its D-MAX and MU-X vehicles, aimed toward improving driver comfort and adding features to attract new drivers. There are dozens of models to choose from with interior enhancements, suspension upgrades, new paint colour options, extended service intervals, and a host of safety updates. You can expect to find these upgrades in the 2018 model year D-MAX and MU-X vehicles.
Performance upgrades
One of the biggest changes to the general D-MAX line of vehicles is the addition of the new LS-T Crew Cab, which is designed to improve driver comfort without sacrificing on ruggedness and durability. The D-MAX LS-T complements the MU-X LS-T and offers up many of the same features, including satellite navigation, roof rails, 18-inch Highway-Terrain tyres, a Passive Entry and Start System (on the 4x4 model only), and more. The new D-MAX LS-T also has a 3-litre turbo diesel engine that produces up to 130 kilowatts of power and up to 430 newton-metres of torque along with a 6-speed automatic transmission. The LS-T comes in a 2WD or 4WD Terrain Command configuration, so it can also be used as a family-oriented vehicle if you don't plan on going off-road.
The many performance upgrades in the new D-MAX LS-T result in more power and an increased Gross Vehicle Mass (GVM) capacity that spreads across the entire 2018 D-MAX line. The 4x2 model can support up to 2,950 kilograms, whereas the 4x4 models can go up to 3,050 kilograms, according to Isuzu. All models will get a boost of at least 100 kilograms compared to previous model years, and the D-MAX 4x2 low-ride SX Single Cab now leads its class with a capacity of 1,349 kilograms.
Interior & exterior style
First and foremost, the D-MAX line – including the SX, LS-U, and LS-T Crew Cab configurations – all have an improved suspension setup that offers a smoother ride over past models. It sports a 3-span leaf spring setup, compared to the 5-leaf setup of previous models, but doesn't negatively impact payload capacity or general truck performance.
On the inside of the D-MAX LS-T you'll find more similarities to the MU-X LS-T. It has premium leather accents throughout, perforated leather wherever the driver touches, and polyurethane leatherette on the bolsters, armrests, dash, glovebox, and other areas that are prone to wear. Those leatherette features, as well as glossy black window switches and chrome air vents, can be found not only on the D-MAX LS-T model, but also the LS-M and LS-U models.
Other updated features include more places to charge devices while traveling as well as series of new paint colour options available for the D-MAX and MU-X range. You'll find Magnetic Red Mica available for both the D-MAX and MU-X, and the D-MAX also has options for Cobalt Blue Mica and Graphite Grey Metallic.
Safety & extended service
Along with the many performance, interior, and exterior updates, you'll find that with Isuzu's inclusion of family-friendly features, it's also working to improve safety across the board. The new D-MAX and MU-X models features Trailer Sway Control (except for the D-MAX 4x2 low-ride SX Single Cab) to make sure you can safely take advantage of the extra towing power. It works as part of the Electronic Stability Control system with sensors that can adjust the throttling and braking of each individual wheel to minimise trailer sway. All D-MAX ute vehicles also have better collision protection features, reversing cameras, and more.
Isuzu wants to protect your financial investment in addition to you and your passengers. All Isuzu vehicles come with the Isuzu UTE Australia Service Plus Program, which includes a five-year warranty, five years of roadside assistance, and the five-year/75,000-kilometre Capped Price Servicing Program. This ensures that if something major happens to your truck within the first five years, you won't have to break the bank to get it repaired and back out on the road.
Related Articles
Isuzu UTE celebrates 100000 sales
View Details
OzRoamer crowns the Isuzu UTE MUX again
View Details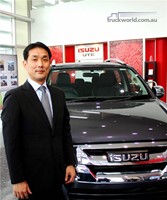 Kuramoto looking forward after Isuzu UTE achieves double digit growth for 9th year in a row
View Details
Adventure with your Isuzu
View Details
Isuzu UTE Pumps Up its I VENTURE Club program
View Details
Isuzu D MAX and MU X To Feature Prominently In New Season Of I'm A Celebrity
View Details
Isuzu Team DMAX ups the ante in recent shows with the DMAX and MUX
View Details
View More News
View all Related Ads