Isuzu Team DMAX ups the ante in recent shows with the DMAX and MUX
Isuzu's Team D-MAX puts on thrilling performances all across Australia to show off what the company's D-MAX and MU-X vehicles can do. Some of the precision driving demonstrations involve team experts driving on two wheels, which Team D-MAX lead driver Jack Monkhouse said is "one of the weirdest things you can do in a car" because "you turn left to go right and right to go left." He adds that "being able to drive on two wheels in a standard D-MAX with a car-load of passengers is great fun."
The fact that Team D-MAX includes event attendees in their demonstrations is what makes the experience different from other car shows. Not only can you ride in a D-MAX as it drives on two wheels, but you can also feel firsthand what it's like to drive a 4WD MU-X up a 100% gradient (or 45-degree) ramp and then come down the other side.
In addition to demonstrations with audience participation, Team D-MAX also has a precision driving show where four drivers show off the stability and control Isuzu trucks offer. The drivers themselves often come from a rally car background, including Motorkhana and Autocross events. This means they put all of their many years of experience into these events.
Powerful & durable
Isuzu trucks clearly have to be powerful to perform the way Team D-MAX demands, and the D-MAX and MU-X are the first diesel vehicles made available to the team. They offer the combination of toughness and durability needed for the trucks to be able to drive on two wheels, go up steep ramps, and jump over other vehicles night after night.
"We've got several D-MAX and MU-X work-horses in the fleet and they do an outstanding job of towing our equipment around the country, and it's hard to imagine anything tougher than the punishment our precision driving team vehicles cope with," states Team D-MAX Director Wayne Boatwright. "They're jumped and bumped and driven on two wheels day in, day out, and never let us down in terms of performance and reliability. In my opinion, they are genuinely the toughest things on the market."
Related Articles
Isuzu UTE celebrates 100000 sales
View Details
OzRoamer crowns the Isuzu UTE MUX again
View Details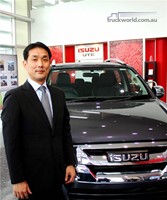 Kuramoto looking forward after Isuzu UTE achieves double digit growth for 9th year in a row
View Details
Adventure with your Isuzu
View Details
Isuzu UTE Pumps Up its I VENTURE Club program
View Details
Isuzu D MAX and MU X To Feature Prominently In New Season Of I'm A Celebrity
View Details
New look new tricks Isuzu UTE resigns Team DMAX
View Details
View More News
View all Related Ads