Avida Announces Wheelchair-Friendly C7994WSL Esperance, Based On IVECO Daily 50C Platform
Avida, an RV manufacturer based in Emu Plains, New South Wales, recently unveiled a 2019 model year wheelchair-friendly Esperance motorhome based on IVECO's Daily 50C platform. The newest member of the Esperance range, the C7994WSL, only requires a passenger car licence to operate and features an integrated electric lift that allows those in wheelchairs or mobility scooters to enter the vehicle safely.
"Avida is proud to manufacture the wheelchair-friendly C7994WSL Esperance model as part of the Avida motorhome range, providing freedom to people in a wheelchair or mobility scooter," says Billy Falconer, Avida sales and marketing manager. "The lift has been fully integrated into the design of the motorhome and works seamlessly with the floorplan. Prior to the availability of the C7994WSL Esperance, buyers wanting wheelchair access would need to consult a third-party lift supplier and the process was much more complicated and costly."
Plenty Of Space
The C7994WSL's 350-kilogram lift leaves ample space inside the vehicle for a fold-up double bed, shower, toilet, kitchen, and more. The RV also has luxury finishes, air conditioning, heating, and enough room to sleep four people. Other features include a slide-out wall and "a second, traditional entry point to the vehicle" that "is located at the rear of the cabin at the passenger side," IVECO says.
The Right Fit
"For our customers, the IVECO Daily is extremely car-like to drive and has an extensive array of safety features such as stability control and front and side airbags. Add to this a powerful yet quiet and refined 3.0-litre turbo diesel engine with 170 horsepower, an eight-speed full automatic transmission and independent suspension, and you can see why the Daily is well regarded for motorhome applications," Falconer says. "From a manufacturing perspective, the Daily's truck-like C Section chassis makes it easier to design and fit the motorhome body as well as equipment such as the wheelchair lift."
Related Articles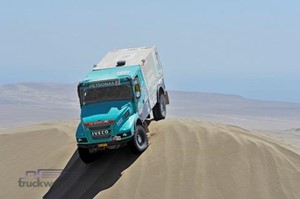 Iveco celebrates at Dakar with top 10 placings
View Details
Iveco Daily delivered Mochas n Munchies
View Details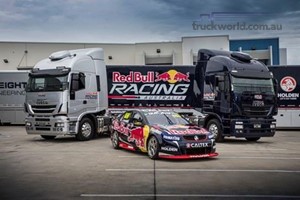 Iveco Stralis the transporter of choice for Red Bull Racing Australia
View Details
Eurocargo Ivecos quiet achiever
View Details
Cattlemans All Right is high praise for big Iveco Powerstar 7800
View Details
Iveco partners with Lowndes TeamVortex
View Details
New Iveco Daily 4x4 imminent after shining in Aussie testing
View Details
View More News
View all Related Ads