Bucher Municipal Celebrates Anniversary With Limited-Edition Compactor Units Built On IVECO Euro 6 8x4 ACCO Chassis
Bucher Municipal recently marked 70 years of manufacturing refuse equipment in Australia by developing multiple limited-edition compactor units it will showcase at upcoming industry events before entering them into service. The units feature 33-cubic-metre (43-cubic-yard) front-loading bodies decorated with a "70 Year" commemorative livery. Among them are five built on the IVECO Euro 6 8x4 ACCO cab chassis; Bucher Municipal reports that its relationship with IVECO dates back five decades.
"As a company, we value our long-term suppliers and partnerships, and we've enjoyed a relationship with the ACCO model that spans approximately 50 years," says Daniel Sampson, Bucher Municipal customer support manager. "Aside from the nostalgia, we also needed to ensure that any vehicles that we developed for the occasion would be attractive to prospective customers once our anniversary celebrations were complete. The ACCO is well-regarded throughout the waste collection industry, and feedback on the latest Euro 6 model is very positive, not only from the end users but from our own manufacturing team who enjoy working on the cab chassis during body fitment."
Safety At The Forefront
Bucher Municipal manufactures compact, truck-mounted, special-truck-mounted, and airport truck-mounted sweepers and sewer and drainage equipment. In 2005, the company acquired MacDonald Johnston Engineering, adding side-, rear-, and front-loader refuse equipment as well as stationary and transportable compactors and bin-lifting equipment. The firm says safety was a key consideration in its recent Euro 6 8x4 ACCO selection.
"Every local government and the major waste contractors require trucks that meet Euro 6 emission standards and also feature a high level of safety content," Sampson says.
The trucks' safety features include Adaptive Cruise Control, Advanced Emergency Braking, Electronic Stability Program, front and rear disc brakes, Lane Departure Warning System, and daytime running lamps. Bucher Municipal also opted for the Attention Support program, Tyre Pressure Monitoring System, and hydraulic retarder. It also equipped the units with a five-camera system to enhance visibility around the entire truck, a roof safety harness, and front zone detection technology that signals when a pedestrian is in the truck's operating zone.
The ACCO Up Close
The ACCO Euro 6 is also available in a 6x4 axle configuration. Its cabin features a modern instrument cluster and intuitive dashboard layout, pneumatically controlled and adjustable steering column, automatic climate control, air suspension seating, and heated and motorised mirrors. Bucher Municipal specified its units with an IVECO Cursor 8.7-litre turbo-diesel engine rated for 360 Horsepower (268 kilowatts) and 1,650 newton-metres (1,217 pounds-foot) of torque at 1,200 rpm. The engine uses IVECO's patented Hi-eSCR single aftertreatment system and is paired with an Allison Generation Five six-speed fully automatic transmission.
Bucher Municipal's ACCOs also feature a Parker Chelsea power take-off (PTO), Meritor axles, and driver-controlled differential locks. The manufacturer opted to outfit the ACCOs with front two-leaf parabolic air (loadshare) suspensions and IVECO eight-bag airbag rear suspensions with Electronically Controlled Air Suspension (ECAS).
Source: IVECO
Related Articles
Earthcruiser Australia reveals the Expedition Single Cab Iveco
View Details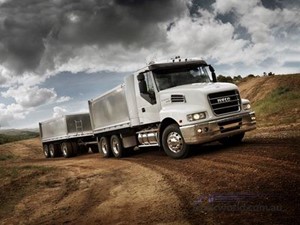 Iveco to display diverse range at Brisbane Truck Show
View Details
Iveco showcases vision for new technologies
View Details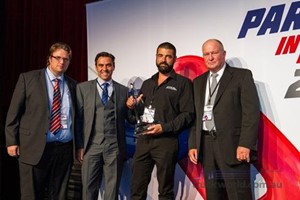 Bendigo Truck Centre Named 2015 Iveco Dealer of the Year
View Details
Iveco Daily 4x4 on call last summer
View Details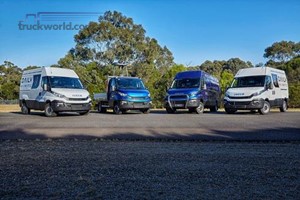 New award winning Iveco Daily range makes much anticipated debut in Australia
View Details
ACCO enhanced with electronic stability control
View Details
View More News
View all Related Ads