IVECO Australia Marks The Completion Of Its 90,000th ACCO Truck
Fifty-eight years after International Harvester's Dandenong, Melbourne, facility produced its first civilian AACO (Australian A-line Cab Over) truck in 1961, the factory is celebrating the completion of its 90,000th unit, an ACCO (Australian C-line Cab Over).
"The ACCO is an Australian transport industry icon and has proven to be a real survivor, as its longevity and high production numbers will attest," says IVECO Australia Business Director Bruce Healy. "A combination of rugged construction, reliability, fit-for-purpose design, and local engineering have made it a favourite for decades, particularly in demanding applications."
A Satisfied Customer
Refuse collection company Solo Resource Recovery acquired the 90,000th ACCO, a 6x4 model. The truck will begin its career as a rigid tanker at Tweed Heads.
"The ACCO has been a staple of Solo Resource Recovery's fleet nationwide for a long time," says the firm's National Fleet Manager, David Hancock. "We operate 4x2, 6x4, and 8x4 ACCO variants in a range of compactor, hook lift, front end loader, tanker, 'RoRo' (roll-on/roll-off), and rear loader operations, and currently have over 500 ACCO units in our fleet." Solo has purchased more than 1,000 ACCOs over the past three decades, Iveco says.
"There is a reason why we keep using these trucks—for the tough, start-and-stop work that is part and parcel of refuse collection, it's difficult to go past the ACCO," Hancock says. "The trucks are also straightforward to maintain and easy for bodybuilders to build on, and the service we receive from IVECO in supporting the range is excellent."
Truck Specs
Iveco's current ACCO lineup comes in 4x2, 6x4, and 8x4 drivelines with an Allison six-speed automatic transmission. Its GVM (gross vehicle mass) ranges from 16.5 to 30 tonnes, and its engines are available in 280-, 320-, and 340-horsepower power levels. The highly configurable ACCO has antilock brakes and Active Traction Control, plus Electronic Stability Control on a particular concrete agitator variant.
Coming Soon
Iveco will soon launch a new generation Euro6 ACCO in Australia.
"The new Euro6 ACCO will continue to be manufactured in Australia and will enjoy many of the same benefits that held its predecessors in good stead for so many years," Healy says. "To this proven equation we're also adding the latest in emissions technology, safety features, and driver appointments, making the next generation of truck an ACCO like no other."
Related Articles
Iveco Daily 4x4 on call last summer
View Details
ACCO enhanced with electronic stability control
View Details
Ten-strong Daily fleet the coolest for Queensland Thermo King Group
View Details
Iveco Stars in the WA Pilbara
View Details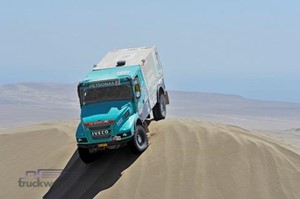 Iveco celebrates at Dakar with top 10 placings
View Details
Red Bull Racing Australia tour Iveco manufacturing facility
View Details
KADS Plant Hire choose Iveco ACCO
View Details
View More News
View all Related Ads