IVECO Brisbane Moves Into New 22,000-Square-Metre Facility With Drivers' Lounges, Ample Parking & Much More
IVECO Brisbane recently moved into a new location at 20 Westgate Street, Wacol, which sits on a 22,000-square-metre (236,806-square-foot) site and consists of offices, warehousing space, and servicing facilities that take up roughly 7,000 sq m (75,347 sq ft) of that real estate.
It also features a truckers' lounge for long-haul drivers that includes bathrooms and sleeping areas, as well as a separate lounge dedicated to light-vehicle operators. IVECO Brisbane designed the facility so that there would be ample parking to allow customers driving vehicles of all sizes to stop in for parts and consumables, as well.
Servicing Features
IVECO's goal for the new Brisbane location is to get customers in and out as quickly as possible, and the firm plans to do so utilising a 20-bay workshop featuring two service pits where B-doubles and other truck-and-trailer combinations won't have to unhitch for servicing. There's also what IVECO calls a "concierge-style" drop-off area where customers can drive in under cover and leave a vehicle for repair and/or maintenance.
In addition, the Brisbane location features a large parts warehouse with an extensive stock of parts and components along with a showroom for new parts, as well as a spacious workshop complete with state-of-the-art tools and equipment for its factory-trained technicians. Here, they can "diagnose, service, and repair the full IVECO vehicle range and trailing equipment," the company explains.
Customer Acceptance & Dealer Growth
"Operating from this large and modern site has allowed us to further lift our service levels to IVECO owners and prospective customers, providing the added care and professional support they deserve from a premium European brand—feedback from owners to date indicates that the new dealership has been well received," says Geoff Buswell, dealer principal of IVECO Brisbane.
"Transitioning to this new facility shows the brand's intent and willingness to invest in the important Queensland commercial vehicle market for the long term," Buswell continues. "Despite some uncertainty over the past 12 months as a result of COVID-19, IVECO has remained steadfast on completing the dealership and transitioning to the site. We're already seeing notable growth in the dealership's customer base since our relocation."
Source: IVECO
Related Articles
Iveco Daily 4x4 on call last summer
View Details
ACCO enhanced with electronic stability control
View Details
Ten-strong Daily fleet the coolest for Queensland Thermo King Group
View Details
Iveco Stars in the WA Pilbara
View Details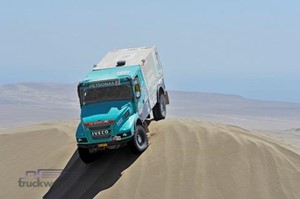 Iveco celebrates at Dakar with top 10 placings
View Details
Red Bull Racing Australia tour Iveco manufacturing facility
View Details
KADS Plant Hire choose Iveco ACCO
View Details
View More News
View all Related Ads