IVECO Daily Tradie-Made Makes Its Return With Extra Tray & Wheelbase Option
Following the launch of the Daily E6 Cab Chassis range, IVECO announced the return of its work-ready, limited-edition Tradie-Made model, which now offers two tray and wheelbase options on the 45C180 platform. The new range adds a 2,218-millimetre (87.3-inch)-wide x 3,173-mm (125-in.)-long tray to the existing 2,218- x 4,223-mm (166-in.) tray. The company notes that both trays are made in Australia.
About The Tradie-Made
Both heavy-duty aluminum tray options have internal load restraint points (24 and 20 points), a window protector and tube headboard, rope rails, and front corner step. The trucks are powered by a 3.01 Euro 6-rated turbodiesel engine producing 180 horsepower (134 kilowatts) and 430 newton-metres (317 pounds-foot) of torque and have Hi-Matic eight-speed fully automatic transmission. The 4,223-mm tray has two-piece quick-lock dropsides while the 3,173-mm tray has single-piece quick-lock dropsides. Each model has a 4,495-kilogram (9,910-pound) GVM and 3.5-tonne (7,716-pound) braked towing.
In-cab features include the Hi-Connect multimedia system which includes GPS navigation, Apple CarPlay and Android Auto, inductive phone charging, a heated driver's seat, and an automatic electronic park brake. The Tradie-Made is loaded with many safety features, including ABS disc brakes, DRLs, four airbags, the Advanced Emergency Braking System, Adaptive Cruise Control, and Anti-Slip Regulator and Hill Holder, which form part of the "ESP9" suite of electronic stability technologies.
Higher Payload, Superior Emission Performance
"Compared to a standard utility, Daily E6 Tradie-Made offers a significantly higher payload of approximately 2,000kg, giving extra productivity for a similar price," says IVECO Australia Product Manager-ANZ, Marco Quaranta. "This comfort and driveability is even more noticeable when comparing Tradie-Made to its Japanese light truck competitors which are based on a cab-over design where you sit on top of the front axle. The Daily E6 is also superior in emission performance, reaching the stringent Euro6 measure as opposed to older Euro5 levels."
Related Articles
Iveco Daily 4x4 on call last summer
View Details
ACCO enhanced with electronic stability control
View Details
Ten-strong Daily fleet the coolest for Queensland Thermo King Group
View Details
Iveco Stars in the WA Pilbara
View Details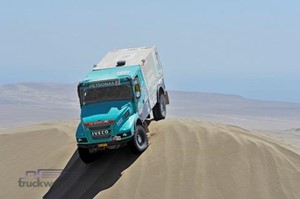 Iveco celebrates at Dakar with top 10 placings
View Details
Red Bull Racing Australia tour Iveco manufacturing facility
View Details
KADS Plant Hire choose Iveco ACCO
View Details
View More News
View all Related Ads