IVECO Introduces Euro 6, 70-Tonne Highway B-Double Prime Mover
IVECO says that its new 6x4 AS Highway B-Double truck combines key benefits of the manufacturer's latest X-Way and ACCO ranges with a platform capable of double-trailer duty. The company lauds the new offering's productivity, low-emissions performance, safety features, and driver aids.
"IVECO is excited to be adding the new Highway B-Double model to our heavy-duty product lineup, filling a gap in our model range which, until now, has been without a Euro 6-rated, B-double-capable prime mover," says IVECO Trucks Australia Managing Director, Michael May. "The combination of powerful 550-horsepower Euro 6 performance, 70-tonne GCM, market-leading transmission, advanced safety and technology, coupled with IVECO's well-regarded productivity and low total cost of ownership benefits, will make the Highway B-Double an attractive proposition for many B-Double applications."
Safety For The Long Haul
The IVECO Highway B-Double is available in low and high roof versions. It comes with 1,010 litres (267 gallons) of fuel capacity and an 80-L (21-gal) AdBlue diesel exhaust fluid (DEF) tank for long intra- and interstate haulage. An extended catwalk gives the driver a safer way to access air hoses and maintenance points at the back of the cabin.
Leather driver and passenger seats come standard in the Highway B-Double. The seats are also heated and air-suspended for comfort, while the cabin comes with automatic climate control and a refrigerator for refreshments. The IVECONNECT multi-media system can provide the driver with feedback and tips using its Driving Style Evaluation (DSE) software. IVECO's tyre pressure monitoring system (TPMS) can alert the driver to underinflated or flat tyres.
To see and be seen, the Highway B-Double is equipped with washer-equipped, bi-xenon headlamps and daytime running lights. Other IVECO safety features include an Electronic Braking System with Brake Assistance System, Electronic Stability Program, Advanced Emergency Braking System, Adaptive Cruise Control, Lane Departure Warning, and Driver Attention Support.
Drivetrain Details
The power plant of the Highway B-Double is an updated, 13-L, Euro 6 Cursor diesel engine. The low-revving motor is capable of producing 2,500 newton-metres (1,844 pounds-foot) of torque at an engine speed of just 1,000 rpm.
Besides AdBlue fluid, the Cursor engine uses IVECO's patented Hi-SCR (selective catalytic reduction) emission control system to meet Euro 6 standards. Hi-SCR's passive diesel particulate filter (DPF) requires no action from the driver for regenerative purposes. The Hi-SCR system also has a lower tare weight and consumes less fuel than more traditional Exhaust Gas Recirculation (EGR) and SCR systems, IVECO says.
The Highway B-Double's updated Hi-Tronix 16-speed automated manual transmission is a quiet gearbox with four reverse gears. It shifts briskly and is programmed to select the most efficient gear ratio for the conditions of the road. The drivetrain also includes a hydraulic retarder along with rocking and creeping modes.
Out back, the new 6x4 AS Highway B-Double uses lockable Meritor differentials and an electronically controlled, eight-bag rear air suspension. Other standard features include an expansion module and a PTO provision.
Aftersales Coverage
The recently launched IVECO Telematics system comes standard on the Highway B-Double with a 12-month subscription included. IVECO covers the truck with a three-year warranty with 24/7 roadside assistance.
Source: IVECO
Related Articles
Iveco Daily 4x4 on call last summer
View Details
ACCO enhanced with electronic stability control
View Details
Ten-strong Daily fleet the coolest for Queensland Thermo King Group
View Details
Iveco Stars in the WA Pilbara
View Details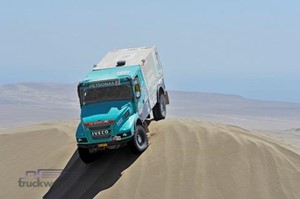 Iveco celebrates at Dakar with top 10 placings
View Details
Red Bull Racing Australia tour Iveco manufacturing facility
View Details
KADS Plant Hire choose Iveco ACCO
View Details
View More News
View all Related Ads