IVECO Introduces New Shuttle 22 Daily Minibus
IVECO recently introduced a new 22-seat minibus model to its Daily range, which also includes 11- and 16-seat configurations. The Shuttle 22, a name that refers to its trim level and passenger capacity, supports a gross vehicle mass of 6.1 tonnes (6.7 U.S. tons) and sits on a 4,100-millimetre (161.4-inch) wheelbase.
The interior features fabric seats with seatbelts, curtains, handrails, an overhead luggage rack, and 1,820 mm (72 in.) of standing height. For the driver, there is a heated, air-suspended seat as well as an Iveconnect touchscreen display and multimedia system with a radio, CD and DVD player, MP3 player, GPS navigation, and a video feed from the reversing camera. An electronically controlled rear air suspension contributes to a smooth ride.
Efficiency & Safety
The Shuttle 22 Daily Minibus is powered by a four-cylinder, Euro 6 IVECO F1C turbodiesel engine that delivers 180 horsepower (134 kilowatts) and up to 430 newton-metres (317 pounds-foot) of torque. It is paired with an eight-speed Hi-Matic fully-automatic gearbox. The engine has an engine service interval of 40,000 kilometres (24,855 miles), or two years, while the transmission has a service interval of 200,000 km (124,274 mi). Both units are standard across the entire Daily minibus range.
Every member of the Daily minibus also comes standard with a wide range of driver assistance and safety systems. Examples include a driver airbag, adaptive load control, anti-slip regulator, disc brakes with anti-lock braking, electronic brake-force distribution, drag torque control, hill hold control, hydraulic rear-wheel boost, hydraulic fading compensation, roll movement intervention, rollover mitigation, and trailer sway mitigation. The Shuttle 22 comes equipped with a lane departure warning system, as well.
"An Attractive Proposition"
"The combination of full automatic transmission, extensive safety equipment, and efficient Euro 6 engine plus high comfort levels make the Daily minibus range an attractive proposition across a variety of industries such as charter services, airport shuttle work, for hotels, aged car facilities, schools, and the like," says IVECO National Sales Manager Steve Heanes. "By adding a 22-seat option to the range, IVECO is now in a great position to better compete in the 12- to 24-seat minibus segment, an area that we've identified as having considerable growth potential. An additional 'Executive 22' model is also under consideration for later in 2021."
Source: IVECO
Related Articles
Iveco Daily 4x4 on call last summer
View Details
ACCO enhanced with electronic stability control
View Details
Ten-strong Daily fleet the coolest for Queensland Thermo King Group
View Details
Iveco Stars in the WA Pilbara
View Details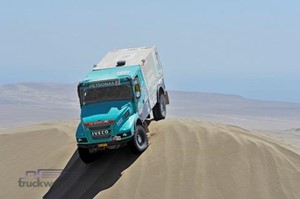 Iveco celebrates at Dakar with top 10 placings
View Details
Red Bull Racing Australia tour Iveco manufacturing facility
View Details
KADS Plant Hire choose Iveco ACCO
View Details
View More News
View all Related Ads