IVECO Telematics Now Available For Select ACCO, Stralis & X-Way Trucks In Australia & New Zealand
The IVECO Telematics system is now included as standard on Euro 6 ACCO and X-Way and Euro 5 Stralis trucks in Australia and New Zealand. Available for vehicles built from September 2020 on with a complimentary 12 months to start, this recently launched solution allows users to gather data from up to 70 channels in an effort to improve efficiency and maximise uptime.
The physical footprint of the system is quite small, consisting of only a GPS antenna and telematics module connected to the CANBUS interface and the truck's ignition. Data is then transmitted over a Telstra Machine-to-Machine 4G network with 24/7 access. It is also covered under warranty for the same duration as the vehicle for added peace of mind.
Powerful & Customisable
IVECO Telematics provides an overall picture of the health of each truck in your fleet. For starters, it tracks driver performance and watches for problem areas such as harsh braking or exceeding speed limits; it also enhances driver safety by sending rollover and impact alerts. And, of course, it measures the performance metrics you'd expect, including fuel consumption, use of cruise control, and more.
Additionally, the system takes safety, theft, and other issues into consideration to further protect your drivers and your trucks. GPS tracking and geo-fencing make it possible not only to avoid unforeseen delays and create more efficient routes, but also to identify times when a vehicle exits a geo-fenced area unexpectedly, which could be an indicator of theft, whether the truck is running or not.
The system also offers a clear maintenance path for vehicles to reduce downtime. By monitoring the odometer, engine hours, battery level, fluid levels, and several other indicators, IVECO Telematics encourages predictive maintenance to prevent breakdowns while out on the road. What makes this particularly helpful for fleet managers is that all of this information is accessible via streamlined and highly customisable portal and dashboard that's available on computers as well as Apple and Android mobile devices. Along with live tracking and basic vehicle management, users can also create detailed reports that can be used to improve performance in the future.
"Valuable Performance Insights" & Other Benefits
"By offering valuable performance insights and monitoring parameters such as tracking and routing, safety, driver and vehicle performance, vehicle maintenance and theft avoidance, IVECO Telematics delivers a complete and holistic end-to-end service for users," says Marco Stiffler, product manager – telematics for IVECO Australia. "As well as providing extremely useful information to the end user to increase their efficiency, buyers who allow their IVECO dealer to have some visibility into their data can enjoy a range of servicing, maintenance, and preventative maintenance benefits that will minimise downtime by ensuring correct parts are in stock prior to servicing."
Related Articles
Iveco Daily 4x4 on call last summer
View Details
ACCO enhanced with electronic stability control
View Details
Ten-strong Daily fleet the coolest for Queensland Thermo King Group
View Details
Iveco Stars in the WA Pilbara
View Details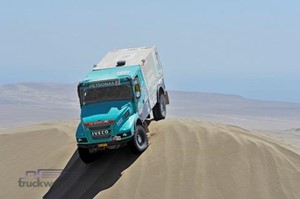 Iveco celebrates at Dakar with top 10 placings
View Details
Red Bull Racing Australia tour Iveco manufacturing facility
View Details
KADS Plant Hire choose Iveco ACCO
View Details
View More News
View all Related Ads