IVECO Trucks Australia Hires New Heads Of Network Development & Truck & Van Sales
IVECO Trucks Australia recently announced two new executive-level hires with Ella Letiagina joining as the head of network development and Glen Dyer coming aboard as the head of Truck and Van Sales for the manufacturer's dealer network. Letiagina and Dyer are joining the team hard on the heels of IVECO's introduction of new iterations of its Daily, Eurocargo, and X-WAY vehicles in the light-, medium-, and heavy-duty categories.
A Wealth Of Experience
Letiagina has previously worked for Mitsubishi and the Volkswagen Group; in her new role, she'll oversee IVECO's dealer network with an eye on development, overall performance, and customer satisfaction. Dyer previously worked as a senior manager in various roles at Mercedes-Benz and was serving as head of dealer sales for the marque's van division before this move. IVECO says his focus will be on brand growth and overall sales.
"A Valuable Contribution"
"IVECO ANZ is transforming itself in the region and strong partnerships, with both our Dealer network and our customers, are a critical component of that transformation," Michael May, managing director of IVECO Australia and New Zealand. "IVECO continues to the hit mark and build momentum with operators who look further to access European performance, comfort and safety at a competitive price-point in the market. We're excited to welcome to the IVECO team two experienced and well credentialed leaders in Ella and Glen, and I'm confident both will make a valuable contribution to the growth ambitions of our IVECO business."
Related Articles
Iveco Daily 4x4 on call last summer
View Details
ACCO enhanced with electronic stability control
View Details
Ten-strong Daily fleet the coolest for Queensland Thermo King Group
View Details
Iveco Stars in the WA Pilbara
View Details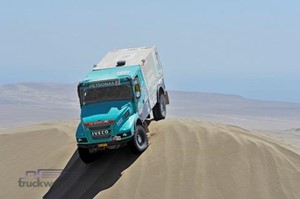 Iveco celebrates at Dakar with top 10 placings
View Details
Red Bull Racing Australia tour Iveco manufacturing facility
View Details
KADS Plant Hire choose Iveco ACCO
View Details
View More News
View all Related Ads