Kalium Lakes Chooses IVECO ASTRA Prime Movers For Mining Operations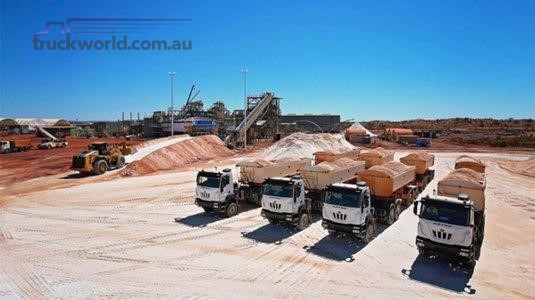 ASX-listed Kalium Lakes, a mining and exploration company in Western Australia, recently added to their fleet of IVECO 6x6 ASTRAs, bringing the total to five, to support their production of high-grade sulphate of potash (SOP), which is used as a farming fertiliser.
Working at a large site in Newman in the Pilbara region of WA, the SOP development is a multi-stage process. First, brine is extracted from the lower aquafer using bores and is pumped through a series of ponds to promote evaporation, and finally harvested with milling machines. The remaining salts are delivered to an on-site purification facility for the final conversion into SOP products. Kalium Lakes' IVECO ASTRAs, leased from K19 Mining, travel alongside the milling machines and are filled on the move. When full, the trucks transfer the salt to the purification facility.
"We had been using American trucks for this task but after having come across the ASTRA, we thought it would be a better fit for this application," says Kalium Lakes Non-Executive Director Brent Smoothy. "Initially, some of the drivers were a bit sceptical of making the shift, but after spending some time using the ASTRAs, they now simply wouldn't go back."
About The ASTRA
The ASTRAs have 13-litre engines that produce 520 horsepower (388 kilowatts) and 2,400 newton-metres (1,770 pounds-foot) of torque; they are fitted with Selective Catalytic Reduction (SCR) technology to reduce emissions. The trucks have road train trailer sets and operate at 90 to 100 tonnes GVM, but can accommodate up to 130 t (143 U.S. t) if needed. IVECO says the ASTRA provides superior traction with hub reduction to all three axles and triple differential locks, and features an Allison full automatic transmission.
"The full automatic is also easy to use—we run the trucks at idle alongside the harvester for loading and you don't have to worry about the clutch," Smoothy says. "The trucks' turning circle is also impressive, all up the ASTRAs are easy to use, comfortable, and great on fuel."
Operating In A Tough Environment
Kalium Lakes' ASTRAs operate 12 hours per day on single shits. Although they are rarely driven at speeds over 50 km/h (31 mph) or over long distances, the trucks operate in a challenging environment with temperatures regularly in the 40s.
"Most days you can't put your hand on the outside of the truck body, it's too hot and it will burn; the ASTRAs handle the conditions easily though, we've never had any cooling issues," says Smoothy. "The ASTRAs are well-built and robust to handle the conditions, all components are also easily accessible for maintenance and for cleaning, which is important given they operate in a salty environment."
The company has been so impressed with the performance of the ASTRAs so far that they already plan to add more in the future. "The trucks are performing very well; we'll continue to use them and grow a uniform ASTRA fleet," Smoothy says. "We also see the ASTRAs as being quite versatile; once they reach their planned 20,000-hour operating cycle in this role, I think they'd be perfect as a fertiliser spreader, giving them a second life."
Source: IVECO
Related Articles
Iveco Daily 4x4 on call last summer
View Details
ACCO enhanced with electronic stability control
View Details
Ten-strong Daily fleet the coolest for Queensland Thermo King Group
View Details
Iveco Stars in the WA Pilbara
View Details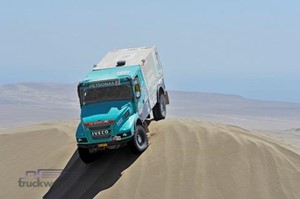 Iveco celebrates at Dakar with top 10 placings
View Details
Red Bull Racing Australia tour Iveco manufacturing facility
View Details
KADS Plant Hire choose Iveco ACCO
View Details
View More News
View all Related Ads