Q-FE & IVECO Team Up On First Locally Made Aggregate Spreader
Melbourne-based plant equipment manufacturer Quality Fabrication and Engineering (Q-FE) recently partnered with IVECO to create a new aggregate spreader, the Q-FE Road Ant, that meets VicRoads Standard 408.11, due to go in effect in Victoria on 1 July, 2022. The new standard requires all aggregate spreaders working on sprayed sealing operations be forward moving to provide additional visibility and increased safety. Road-building sites normally have multiple machines operating simultaneously alongside workers. Q-FE's engineering team began developing a vehicle to meet the new requirement in January 2020.
About The Road Ant
The Q-FE Road Ant is a dual-control, forward-moving truck based on the latest Australian-manufactured Euro 6 ACCO and X-WAY platforms that can be driven independently from both ends. Safety features are engaged when driving from either end and controls that are not in use are disabled. The vehicle also includes Reverse Smart Automatic Emergency Braking and Anti-Rollaway Braking. The dual-control cabin enables the operator to sit on either side, be directly over the spread line, and have an uninterrupted view of the worksite and surroundings. The body of the truck is a modified Trout River asphalt-compatible unit with a 10-gate chip spreader and a 10-cubic-metre (13-cubic-yard) capacity. Trout River also offers 6 and 15 cu m (7.8 and 19.6 cu y) units. Nine Road Ants have been completed to date, with another four currently in progress on the X-WAY 8x4 platform.
Further Cost Savings
"Q-FE have to date successfully fitted the Road Ant to a variety of cab chassis, but having a local manufacturing presence with engineering and production capabilities has helped to streamline the process," says Q-FE General Manager Glenn Hardiman. "IVECO is currently assisting Q-FE with some customisation on the production line, and hopefully, in the near future, will be able to assist in further cost savings with the potential fitment of existing standard IVECO components such as steering mitre boxes and crossover shafts, and Q-FE-supplied custom wiring looms."
Source: IVECO
Related Articles
Iveco Daily 4x4 on call last summer
View Details
ACCO enhanced with electronic stability control
View Details
Ten-strong Daily fleet the coolest for Queensland Thermo King Group
View Details
Iveco Stars in the WA Pilbara
View Details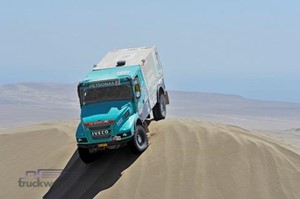 Iveco celebrates at Dakar with top 10 placings
View Details
Red Bull Racing Australia tour Iveco manufacturing facility
View Details
KADS Plant Hire choose Iveco ACCO
View Details
View More News
View all Related Ads