Simon National Carriers Welcomes 5 New IVECO Eurocargo ML160 Trucks To Fleet
Simon National Freight Carriers recently welcomed five new IVECO Eurocargo ML160s to its fleet, and the haulier says the medium-duty trucks' overall safety package and emission control system were a key determining factor in the purchase. The Eurocargo ML160s are fitted with tautliner bodies and will be shortly put to work in general freight applications in the greater Sydney, Melbourne, and Adelaide metropolitan areas.
A Full Safety Suite
"We owe it to our drivers and to other road users to provide the safest vehicles possible," says Michael West, Simon National Carriers' National Operations Manager. "The Eurocargo was extremely attractive to us particularly from a safety and emissions perspective, they have features and equipment that our current Japanese models can't match."
Features of note on the Eurocargos include Advanced Emergency Braking, Adaptive Cruise Control, and Lane Departure Warning, all of which can help in the event that a driver becomes momentarily distracted.
Power & Emission Control
Simon Nation Freight Carriers' Eurocargos are powered by a Euro 6, 6.7-litre six-cylinder engine producing 280 horsepower and 1,000 newton-metres of torque from just 1,250 rpm. The engine's Hi-SCR (Selective Catalytic Reduction) emission control system, which features a passive Diesel Particulate Filter that doesn't require any intervention by the driver, offers reduced weight and lower fuel consumption compared to more traditional EGR (exhaust gas recirculation)/SCR systems.
Source: IVECO
Related Articles
Iveco Daily 4x4 on call last summer
View Details
ACCO enhanced with electronic stability control
View Details
Ten-strong Daily fleet the coolest for Queensland Thermo King Group
View Details
Iveco Stars in the WA Pilbara
View Details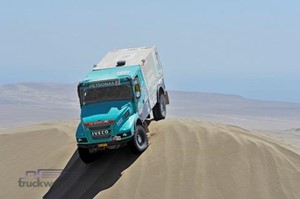 Iveco celebrates at Dakar with top 10 placings
View Details
Red Bull Racing Australia tour Iveco manufacturing facility
View Details
KADS Plant Hire choose Iveco ACCO
View Details
View More News
View all Related Ads