Tasmanian Logistics Specialist Adds 8 New IVECO X-Way & Stralis Trucks To Its Fleet
Monson Logistics, a freight services provider with locations in Bell Bay, Burnie, and Hobart in Tasmania, recently added eight new trucks to its 40-vehicle, all-IVECO fleet. The new additions include five X-Way AT and AS prime movers and three Stralis AS-L models. The company is a longtime IVECO customer and points out that some of its oldest Stralis trucks have covered as many as 1.9 million kilometres (1.18 million miles), either in a single-trailer or B-Double configuration.
The Latest Additions
While Monson's fleet could be tasked with anything from general pickup and delivery to interstate transport or container handling, the trucks in this order are purpose-built for specific applications. For example, the Stralis AS-Ls are powered by 560-horsepower (418-kilowatt) Euro 5 engines that produce up to 2,300 newton-metres (1,696 pounds-foot) of torque and will operate in B-Double configurations.
Of the five X-Ways, three have 11-litre Euro 6 engines that produce 460 hp (343 kW) and up to 2,150 N-m (1,586 lbf-ft) of torque, and two have 12.9-L Euro 6 engines that produce 510 hp (306 kW) and up to 2,300 N-m of torque. These five trucks will be coupled with single trailers for container transport and will perform sideloader work, but they will also haul timber to fulfill Monson's contract with Bell Bay-based Timberlink. The Euro 6 engines come in handy here because Timberlink adheres to the Science Based Target Initiative (SBTi) for reducing emissions.
The three 460-hp X-Ways are replacing Stralis trucks that clocked in at 500 hp (373 kW), but so far, the drivers are still seeing the same level of performance, and they've also welcomed to the introduction of a 12-speed automated manual transmission.
Safe, Comfortable & Quiet
Another major benefit of the IVECO X-Way for both Monson Logistics and its customers are the standard safety features, including adaptive cruise control, advanced emergency braking, and lane departure warning, among others.
"Safety and compliance are extremely important to us, that's why we're part of the TruckSafe Industry Accreditation Program and have approved National Heavy Vehicle Regulator's (NHVR) Safety Management Systems, Fatigue Management Systems, and Mass Management systems in place," says owner Bruce Monson.
In addition to being safe, all of Monson's IVECOs also have cabs that not only keep the driver comfortable but also help cut down on noise. "It's a nice environment for the driver, but also for some of our work we're travelling through built-up areas early in the morning and there's minimal disturbance to residents," says Monson. "The trucks can slip through virtually unnoticed, which is very different to the North American trucks with their noisy Jake Brakes."
Source: IVECO
Related Articles
Iveco Daily 4x4 on call last summer
View Details
ACCO enhanced with electronic stability control
View Details
Ten-strong Daily fleet the coolest for Queensland Thermo King Group
View Details
Iveco Stars in the WA Pilbara
View Details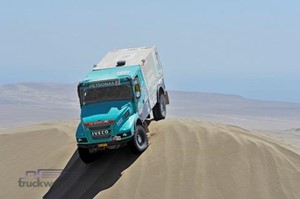 Iveco celebrates at Dakar with top 10 placings
View Details
Red Bull Racing Australia tour Iveco manufacturing facility
View Details
KADS Plant Hire choose Iveco ACCO
View Details
View More News
View all Related Ads