Track Excavations Relies On IVECO Trucks & Vans For Excavation & Construction Cleanup
Track Excavations owner Daryl Crouch has been an IVECO customer since 2005 when he first got behind the wheel of a Stralis. Since then, Crouch has stuck with the Stralis brand for tipper trucks and tautliners, but he has also expanded to include ACCO compactors and a Daily van. The Sydney company's Stralis ATi tipper models have Sloan bodywork and are used to haul tag trailers, one of its Stralis ATi 360 tautliner trucks features a Hiab crane, and the lone Daily 50C van has an 18-cubic metre capacity. Track Excavations also owns two 6x4 ACCO compactors that feature Bucher Municipal rear-loading bodies. The company uses the vehicles to haul away waste during construction and move empty bins to other sites when work concludes.
Why Stick With Stralis?
"We bought our first Stralis tipper and kept it for over 12 years, and during that time we didn't spend much money on it at all. So we've kept buying IVECO models over the years – they've proven to be reliable, cost effective, and easy to maintain," says Crouch. "The Stralis models in particular are just so quiet, this is good when you're working on new building estates in the early mornings, as it minimises the noise and disruptions to the residents already living in the general area. To keep the noise down, we've also made the move from tracked to wheeled loaders, they're quieter and there's also a lot less wear and tear on footpaths and roads."
Drivers Are Onboard
Crouch has owned trucks from several other brands, including European and North American models, but he keeps coming back to IVECO and his drivers understand why. "At the start some of them want North American trucks, but it doesn't take them long to appreciate what the IVECOs provide," he says. "The cabin comfort and low noise is excellent and the whole layout is very ergonomic, all the vehicles are either AMTs or automatic, which means they can just get in and drive, it's a lot more relaxed and stress-free."
Related Articles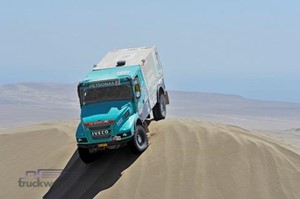 Iveco celebrates at Dakar with top 10 placings
View Details
Iveco Daily delivered Mochas n Munchies
View Details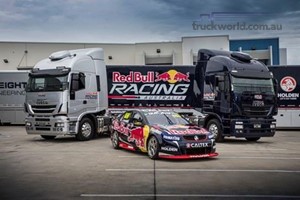 Iveco Stralis the transporter of choice for Red Bull Racing Australia
View Details
Eurocargo Ivecos quiet achiever
View Details
Cattlemans All Right is high praise for big Iveco Powerstar 7800
View Details
Iveco partners with Lowndes TeamVortex
View Details
New Iveco Daily 4x4 imminent after shining in Aussie testing
View Details
View More News
View all Related Ads