Kenworth Legend 900 Transports 'One-Of-A-Kind' Crane From Sydney To PACCAR Australia's Bayswater Site
Membrey's Transport and Crane Hire recently used a Kenworth Legend 900 to transport a "one-of-a-kind" V-type double girder-crane from Sydney to PACCAR Australia's expansion site in Bayswater, Victoria. The Legend 900 is one of several Kenworth trucks in the Membrey's fleet, all of which are specified for high gross combination mass operations, with the most recently example being a 20-metre (65.6-foot) crane with a maximum load capacity of 16 tonnes (17.6 U.S. tons).
Bayswater Expansion Site
PACCAR's $37 million Bayswater site expansion will include a new 9,300-square-metre (100,104.4-square-foot) warehouse, a 1,500-square-metre (16,146-square-foot) factory extension, and other upgrades. Already completed projects include a new car park with 400 spaces and a 20-metre (65.6-foot) main plant extension where a new 2.1-metre (7-foot) Framing Robotic Cell will be installed in 2020.
According to Kenworth, the main factory expansion will include "upgrades to the paint shop, featuring four new paint robots, and improved layouts for frame, cab build, cab trim, engine assembly, and final line stations." PACCAR expects to complete the project in 2021, which is also when the company will celebrate its 50th anniversary of manufacturing trucks in Australia.
Expansion Moving Along Nicely
"We are more than pleased with the progress of work that has been completed so far on the expansion of the PACCAR Australia site. The workforce has been incredibly accommodating whilst we work through these changes to continue to produce quality trucks our customers expect," says Tom Cooper, operations director for PACCAR Australia. "We have a lot of work ahead of us, though are confident we will meet the project deadline with as little disruption as possible to staff and most importantly the manufacturing plant; culminating in a better plant and workplace for all."
Related Articles
Lindsay Transport Adds 400th Australian-Made Kenworth Truck To Its Fleet
View Details
Kenworth Making Progress on Zero Emission Prime Mover
View Details
K104B Release -The Legend Continues..
View Details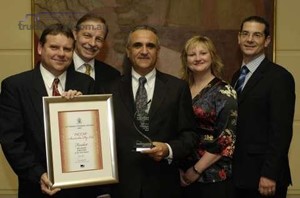 PACCAR Australia Awarded "Employer of the Year"
View Details
Allan Clark is King of the Road in His T904
View Details
Kenworth T3 Series – Ready to Deliver
View Details
Former PACCAR Executive recognized in 2008 Queen's Birthday Honours
View Details
View More News
View all Related Ads