Kenworth Releases New T410SAR With Set-Forward Front Axle, PACCAR MX-13 Engine & Other Standout Features
Kenworth recently launched the new T410SAR, which follows in the footsteps of the T610 and the T410. It features a set-forward front axle, a 2.1-metre-wide cab, and a BBC (bumper to back of cab) length of 2,850 millimetres. There are three sleeper cab options available, ranging from 600 to 860 mm, including aero and mid-roof options. Kenworth will also offer a 600-mm flat-roof sleeper cab beginning in 2021.
The truck supports gross combination masses (GCM) of up to 70 tonnes, and Kenworth says it is "specifically designed to provide for maximum payload capacity under Australian regulations for 19-m B-double" and car carrier applications. It's currently available as a 6x4 rigid or single or multi-trailer tractor unit, but there will be an 8x4 car carrier version out later in 2020.
The Best Of Old & New
"Combining classic Kenworth styling with modern enhancements, the T410SAR complements the existing Kenworth product range and provides Australian and New Zealand customers with additional solutions for their application needs," says Brad May, director of sales and marketing for PACCAR Australia. "Of paramount importance in delivering new product is the need to maintain the exceptional performance, quality, durability, and productivity for which Kenworth is renowned. Our extensive testing and validation process supports this, as does our own research and development, further enhancing product as innovations come to hand."
PACCAR Power
The Kenworth T410SAR comes standard with a 13-litre PACCAR MX-13 engine available in 460- or 510-horsepower (343- or 380-kilowatt) configurations. Gearbox options include 12-speed PACCAR and 18-speed Eaton UltraShift Plus transmissions that support maximum torque ratings of between 1,850 and 2,050 pounds-foot (2,508 and 2,779 newton-metres). The PACCAR 12-speed supports GCMs of up to 50 t, while the Eaton 18-speed can handle the T410SAR's maximum 70-t GCM. There is an option for an 18-speed Eaton manual transmission, as well.
Interior & Safety Features
The interior of the T410SAR's cab features a steering wheel with integrated cruise control and audio control buttons, an ergonomically located instrument panel and switches for controlling the engine fan, engine brakes, and more, and the option for a 7-inch display with radio, satellite navigation, digital gauges, and more. Other features include an HVAC system "with automatic climate control," according to Kenworth, a floodlight mounted to the door, and LED lighting throughout the cab's interior.
Kenworth also emphasised improving visibility with the design of the T410SAR's cab. The panoramic windscreen offers 180 degrees of visibility and Kenworth placed the side mirrors in such a way that they are lower on the cab to improve sight lines. The mirrors are also adjustable and feature "high strength cast breakaway brackets" that "reduce mirror vibration and offer an optimal rear view of the vehicle." Other standard safety features include active cruise control, an electronic braking system, lane departure warning, and other "collision avoidance and mitigation" technologies, Kenworth says.
Related Articles
PACCAR Australia and CJD Equipment - A Powerful New Partnership in Tasmania
View Details
PACCAR Australia Wins National Manufacturing Industry Training Award
View Details
Kenworth T3 Series – Ready to Deliver
View Details
Look into the future with Kenworth's 'Innovation Truck'
View Details
Kenworths Innovation Truck Smart Systems and Devices
View Details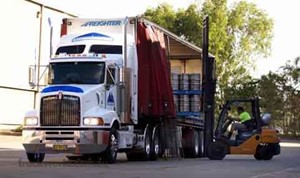 Kenworths T402 delivering for Mark Bloomer Transport
View Details
Martins Milestone
View Details
View More News
View all Related Ads