Kenworth Reveals New T360 & T410 Trucks With 2.1-Metre-Wide Cab
The T610 has been a watershed truck for Kenworth, not least because of its 2.1-metre-wide cab. Today, the company has adapted the T610's popular cab and innovative features into two new offerings: the Kenworth T360 and T410.
Developed over an 18-month time frame, the all-new trucks give the driver a 180-degree panoramic view, with open lines of sight through big side windows and over low mirror placement. The mirrors, gauges, and controls are all easily visible without having to move one's head. An enhanced HVAC system provides automatic climate control, while the interior lighting is designed to reduce fatigue and glare. All of the above help a driver to be more alert and in control.
Kenworth also made the T360 and T410 simpler to service and easier to enter and exit safely. Along with improved performance and drivability, the new trucks come with standard and optional safety technologies such as Kenworth's EBSS (Electronic Brake Safety Systems), ESP (Electronic Stability Program), and collision avoidance/mitigation features including active cruise with braking and lane departure warning.
The Metropolitan T360
The new T360 has a short BBC (bumper-to-back-of-cab) and optimised steering geometry. Its tight turning circle, augmented ground clearance, and remarkable manoeuvrability make it ideal for urban and intrastate work.
The lightweight T360 has a 280- to 400-horsepower (209- to 298-kilowatt) Cummins ISLe5 engine with plenty of capability for high-capacity operations. Its transmission options include the Allison 3000 and 4000 series as well as the Eaton Manual or UltraShift Plus.
Adding even more to its versatility, the T360 is available in 6x4, 8x4, and 10x4 axle configurations. The T360A is its concrete mixer version.
The Over-The-Road T410
The long-haul T410, on the other hand, is born for the open road. It can be rated up to 70 tonnes for oversized PBS (Performance Based Standards) tipper and dog towing.
The aerodynamic T410 uses a powerful 460- or 510-horsepower (343- or 380-kilowatt), economical PACCAR 12v MX-13 engine. It boasts the all-new 12-speed PACCAR transmission, which is lightweight, strong, and smooth-shifting, but the Eaton Manual and UltraShift are available as alternatives.
Kenworth gave the T410 a BBC of 2,845 millimetres and a set-back front axle. Sleeper options include a 600-millimetre aero, a 760-millimetre mid-roof, and an 860-millimetre aero cab.
Built With Driver Input
"Feedback from customers with prototype T360 and T410 models has been extremely positive," said PACCAR Australia's director of sales and marketing, Brad May. "In combination with in-house design validation, the data and information gained from the real-world testing with customers in the Australian environment has delivered these outstanding new products."
Related Articles
Gilbert and Roach Newcastle crowned Kenworth Dealer of the Year
View Details
PACCAR Australia and CJD Equipment - A Powerful New Partnership in Tasmania
View Details
PACCAR Australia Wins National Manufacturing Industry Training Award
View Details
Kenworth T3 Series – Ready to Deliver
View Details
Look into the future with Kenworth's 'Innovation Truck'
View Details
Kenworths Innovation Truck Smart Systems and Devices
View Details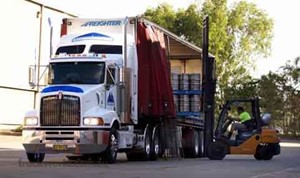 Kenworths T402 delivering for Mark Bloomer Transport
View Details
View More News
View all Related Ads