Kenworth T610 Now Offers 600-Millimetre Aero Roof Sleeper Cab Option
Kenworth now offers a 600-millimetre aero roof sleeper cab option in addition to its day cab, 760-millimetre mid-roof sleeper, and 860-millimetre aero roof sleeper. The smaller cab gives the T610 improved fuel efficiency and increased payload capacity in 26-metre B-double configurations. The cab features a bed with a foam mattress and storage underneath, a privacy curtain and sleeper blackout curtain, open shelving, and more. Optional add-ons include a 42-litre refrigerator and under-bunk storage drawer.
New Sleeper Option
"As a conventional model, the T610 with 600-millimetre sleeper option is unique in its ability to offer both a sleeper and a bullbar in combination with full-length 34-pallet trailer sets and still fit within the 26-metre B-double envelope. The new sleeper option provides maximum productivity, optimal fuel efficiency supported by the T610's aerodynamic lines, while reducing costs incurred by road damage," says Brad May, director of sales and marketing at PACCAR Australia. "With more head room, the new sleeper provides comfortable resting facilities to aid in managing driver fatigue, and offers a great option for those doing shuttle work. It really is an efficient, safe and productive alternative."
Kenworth T610 Configurations
The Kenworth T610 is available in 6x4 and 8x4 configurations. It comes standard with a Cummins X15 Euro 5 engine that produces 485 horsepower and 2,237 newton-metres, but higher spec version are available, including a 600-horsepower X15 engine that produces up to 2,779 newton-metres. You also have the choice of either an 18-speed Eaton manual transmission or 18-speed Eaton UltraShift PLUS automated manual transmission.
Related Articles
PACCAR Australia and CJD Equipment - A Powerful New Partnership in Tasmania
View Details
PACCAR Australia Wins National Manufacturing Industry Training Award
View Details
Kenworth T3 Series – Ready to Deliver
View Details
Look into the future with Kenworth's 'Innovation Truck'
View Details
Kenworths Innovation Truck Smart Systems and Devices
View Details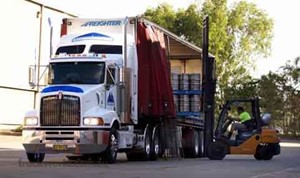 Kenworths T402 delivering for Mark Bloomer Transport
View Details
Martins Milestone
View Details
View More News
View all Related Ads