Kenworth Unveils Special-Edition Legend SAR Truck To Commemorate 50 Years Of Australian Manufacturing
The recent Brisbane Truck Show held in mid-May provided the backdrop for Kenworth to unveil its 50th Anniversary Legend SAR, the newest model in its Legend Series of special-edition Kenworth trucks. The Legend SAR ("Short-bonnet Australian Right-hand drive") comes as Kenworth celebrates 50 years of truck manufacturing in Australia this year. The manufacturer modeled the Legend SAR on its W900SAR, a model built and sold here from 1975 to 1985 that was also Kenworth's first model designed, engineered, and built specifically for Australian operating requirements.
50 Years Of Proud Manufacturing
The Legend SAR is the latest entry in the Legend series, which also includes the 2015 Legend 950 and 2017 Legend 900. Kenworth says the truck represents an iconic fusion of the W900SAR and S2 models that featured a sloping bonnet and raised cab position, and notes that the W900SAR could handle the high-horsepower engines that Australian transport operators favour and still accommodate a maximum payload within existing length limits. Other SAR models have followed, but Kenworth says the W900SAR's allure still remains and is reignited with the Legend SAR.
"The truck not only commemorates 50 years of proudly manufacturing Kenworth trucks in Australia, it symbolises what was a turning point for local design and engineering and the custom-build philosophy that Kenworth is still renowned for today," says Brad May, PACCAR Australia director of sales and marketing. "In addition to recognising our long heritage in this country, the Legend SAR pays homage to all those who have stood and stand today behind the badge of a Kenworth truck—the ones who have helped make Australian-made Kenworths an integral part of the unique Australian landscape."
"Son of Nugget"
Kenworth calls the Legend SAR the "Son of Nugget" as a tribute to the W-Series limited-edition "Gold Nugget" it released in 1984. The special truck includes such limited features as a flat windscreen B-series cab in 91.4- and 127-centimetre (36- and 50-inch) sleeper configurations with Aero 1 or flat-roof designs. The truck also features traditional doors and door handles and airlift windows, heritage Kenworth and Cummins hood badges, and diamond-pleat interior trim embossed with "Legend SAR 50th Anniversary Edition."
Also included is a wooden gear knob with original Eaton Fuller logo, a Cummins X15 engine painted beige to commemorate Cummins' heritage, side-mounted exhausts with wraparound covers that matches the original SAR's, and round 10.2-cm (4-in.) front turn signals on the crown of the wheel arch similar to the original SAR's.
Source: Kenworth
Related Articles
Kenworth Making Progress on Zero Emission Prime Mover
View Details
Lindsay Transport Adds 400th Australian-Made Kenworth Truck To Its Fleet
View Details
K104B Release -The Legend Continues..
View Details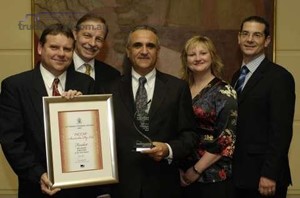 PACCAR Australia Awarded "Employer of the Year"
View Details
Allan Clark is King of the Road in His T904
View Details
Kenworth T3 Series – Ready to Deliver
View Details
Former PACCAR Executive recognized in 2008 Queen's Birthday Honours
View Details
View More News
View all Related Ads