Lindsay Transport Adds 400th Australian-Made Kenworth Truck To Its Fleet
Haulage specialist Lindsay Transport recently purchased its 400th Kenworth truck, a T610 with a 15-litre Cummins X15 Euro V engine and Eaton UltraShift Plus transmission. It also features a stainless-steel light bar and interior embossing that designates the truck as the company's 400th Australian-made Kenworth. Kim Lindsay, CEO and managing director of Lindsay Transport, was on hand at the Kenworth DAF Bayswater plant to receive the keys to the milestone vehicle from Brad May, Kenworth Truck Australia's director of sales and marketing.
"The delivery of Lindsay Transport's 400th Kenworth marks a tremendous milestone for the Lindsay family, the Lindsay Transport organisation, and Brown and Hurley," says May. "We are proud of the long relationship between our companies and we look forward to working together on the next hundred."
Brief History
Lindsay Transport's roots go back to 1953 when it operated under the Lindsay Brothers name and specialized in local deliveries of fruit and vegetables. The company purchased its first Kenworth truck in 1988, and 32 years and 400 Kenworth trucks the later, the company currently operates a fleet of more than 1,000 vehicles out of 16 terminals.
More On The Kenworth T610
The Kenworth T610 is available with either a 6x4 or 8x4 axle configuration and has options for a day cab, mid roof sleeper cab, or 600-millimetre (23.6-inch), 860-mm (33.9-inch), or 1,400-mm (55-inch) Aero roof sleeper cab. The Cummins X15 engine comes in several versions ranging from 485 to 600 horsepower (362 to 447 kilowatts) and from 1,650 to 2,050 pounds-foot (2,237 to 2,779 newton-metres) of torque. The T610 also has several gearbox options available, including an Eaton manual transmission and the aforementioned Eaton UltraShift Plus automated manual transmission.
Related Articles
PACCAR Australia and CJD Equipment - A Powerful New Partnership in Tasmania
View Details
PACCAR Australia Wins National Manufacturing Industry Training Award
View Details
Kenworth T3 Series – Ready to Deliver
View Details
Look into the future with Kenworth's 'Innovation Truck'
View Details
Kenworths Innovation Truck Smart Systems and Devices
View Details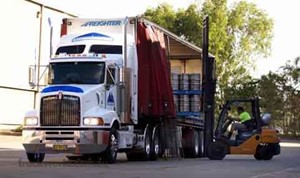 Kenworths T402 delivering for Mark Bloomer Transport
View Details
Martins Milestone
View Details
View More News
View all Related Ads