MAN's TGS Tipper Will Be The Star Of Its Stand At Brisbane Truck Show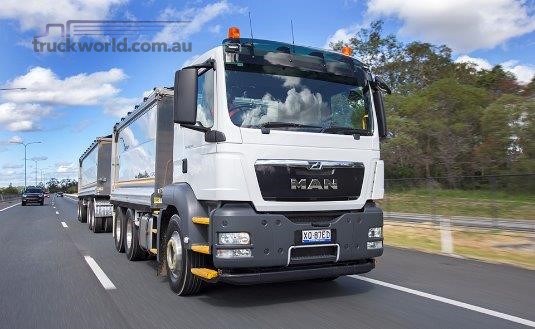 MAN Truck & Bus will highlight a TGS 26.540 tipper spec vehicle at the 2019 Brisbane Truck Show, which runs from 16 to 19 May at the Brisbane Convention & Exhibition Centre. The 6x4 truck features a 540-horsepower engine and is designed with a lower-weight chassis for a larger maximum payload capacity.
A 580-horsepower TGX D38 and a 640-horsepower TGX D38 PerformanceLine will join the TGS on MAN's shared stand with Western Star Trucks at the show. Dick Johnson, former racecar driver and part owner of DJR Team Penske, will also be on-hand at a special meet and greet starting at 11:30 a.m. on Sunday, May 19.
Versatile Vehicle
"The TGS 26.540 unit excels in the field, whether on a construction site, or travelling locally or intrastate," says Kevin Dennis, managing director of Penske Commercial Vehicles. "The truck offers great visibility making it ideal on heavily-populated worksites, not to mention an excellent turning circle resulting in exceptional manoeuvrability. We have seen customers consistently realising over 40-tonne payloads achieved through light chassis weight and optimal trailer designs. With MAN, customers can count on outstanding fuel efficiency, low whole-of-life costs, maximum safety and comfort, and proven reliability. And that's exactly what the TGS tipper spec unit delivers."
More On The TGS Range
The MAN TGS is available with engines ranging from 360 to 540 horsepower. There are several axle configurations, including 4x2, 6x4, 6x6, 8x4, and 8x8, and gross vehicle mass ranges from 18,000 to 42,000 kilograms. These specs make the TGS range well-suited for local and regional deliveries, construction and mining work, and much more.
Related Articles
MAN continues its relationship with Triple Eight Race Engineering and naming rights partner Red Bull Racing Australia
View Details
MAN and Scania begin gearbox cooperation
View Details
Polyfoam Australia P/L expands its fleet of MANs with new rigid model
View Details
MAN continues relationship with Triple Eight Race Engineering and new team sponsor Red Bull Racing Australia.
View Details
MAN to display wide model range at ITTES in Melbourne
View Details
MAN TGX B Double delivering outstanding fuel economy for Pickerings Bulk Haulage
View Details
Efficiency and passion. MAN at the IAA 2014
View Details
View More News
View all Related Ads