Road Hog Transport's New MAN TGM 16.290 Hauler Hits The Road With Mobile Showroom
Maroochydore-based Road Hog Transport has been working with the Penske Australia dealership in Brisbane to build a stable of five MAN transport trucks; the fifth recently came in the form of a MAN TGM 16.290 rigid with Pantech body and tail lift. Road Hog, established in 2003, will use the truck to haul a motorbike trailer that converts to a showroom. The family-owned and -operated vehicle transport firm delivers motorcycles, ATVs, trikes, golf carts, aircraft, and more along Australia's east coast and has been buying trucks from MAN, Western Star, and Dennis Eagle distributor Penske Australia for more than 10 years.
Long Service Intervals
MAN's short-haul TGM range is available in 4x2, 6x2, and 4x4 models with medium-duty single, sleeper, and crew cabs. The lineup features all-wheel drive availability, 250- to 340-horsepower engines, and GVM (gross vehicle mass) ratings spanning 15 to 26 tonnes. In addition to regeneration-free AdBlue-only engine technology designed to enhance fuel consumption and enable long service intervals, Road Hog Transport's TGM 16.920 features an aerodynamically designed LX sleeper cab with high roofline and electronically controlled air suspension operational via Bluetooth.
Jam-Packed With Features
Callie Le Roux, Penske Australia new truck sales representative, says Road Hog's truck is "jam-packed" with features, including an ISRI Air Ride driver's seat, MAN Media Truck infotainment system, fully integrated reverse camera for truck and trailer, and a bespoke roof-mounted light bar. Le Roux says the dealership worked extremely closely with Road Hog to ensure the specialised trailer and its extendable drawbar would fit perfectly with the MAN rigid.
Related Articles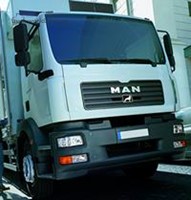 MAN Introduces the new TGM to the Australian Market
View Details
MAN continues relationship with Triple Eight Race Engineering and new team sponsor Red Bull Racing Australia.
View Details
MAN continues its relationship with Triple Eight Race Engineering and naming rights partner Red Bull Racing Australia
View Details
MAN Trucks and Red Bull Racing Jamie Whincup endures the open road ahead of Sandown 500
View Details
The new MAN TGX EfficientLine 2 saves 6.57 per cent
View Details
New MAN flagship makes Australian debut at Brisbane Show
View Details
Polyfoam Australia P/L expands its fleet of MANs with new rigid model
View Details
View More News
View all Related Ads