Bentley Group Chooses MaxiTRANS Freighter Drop Deck Semi-Trailer For New Port Augusta Cabin Park Project
Bentley Group has been a MaxiTRANS customer for almost a decade and has purchased several aluminium tipper trailers from the brand over the years. However, its latest order is a purpose-built MaxiTRANS Freighter Drop Deck Semi-Trailer with ramps that is designed to haul residential suites as part of a new cabin park development in Port Augusta, South Australia. The company already runs one such park in Port Pirie.
Aside from the cabin park, Bentley Group also has a hand in agriculture, construction, and hospitality, so when the Freighter Drop Deck Semi completes this job, it will "make its way around the company's other business divisions," according to MaxiTRANS. Some applications will include hauling bulldozers, graders, loaders, and other heavy machinery.
Other Freighter Features
MaxiTRANS says the Freighter Drop Deck Semi-Trailer features a short, extra-strong gooseneck and "can be engineered to optimise pallet capacity" on the lower and upper decks, depending on the type of freight. It also has increased stability thanks to low-profile frames and the wider spacing of the main beams. Combined with strong cross members and pull-out ramps, this Freighter is "a more robust and reliable trailer," according to MaxiTRANS, and meets all of Bentley Group's needs.
Purpose-Built For Bentley Group
"We have bought aluminium tippers from MaxiTRANS previously and in February we picked up a new multi-purpose Freighter Drop Deck Semi-Trailer. We had the trailer purpose-built to suit our specific needs," says Hayden Bentley, managing director of Bentley Group. "The cabins we transport with the trailer are one- or two-bedroom, with the longest of them around 10.3 metres long, so we wanted the base of the deck to be 10.5 metres so the cabin could fit on it. Its bi-folding ramps were made removable to make it easier to put the cabins on and off. We even had it colour-coded to match our new prime mover so it looks nice on the road as well."
Related Articles
Colrain has Trailer Parts Covered
View Details
Written Off - Don't Believe It
View Details
New Larger Dandenong Premises for Hamelex White and MaxiTRANS Repairs and Service
View Details
MaxiTRANS Max Out at ITTES 2012
View Details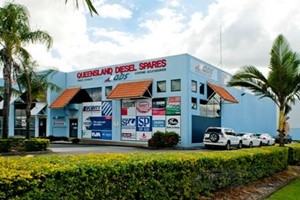 MaxiTRANS acquires Queensland Diesel Spares
View Details
Sell and Parker Takes Delivery of Specialised Hamelex White Hooklift Bin Trailer
View Details
MaxiPARTS Head Office Relocation
View Details
View More News
View all Related Ads