Big Harvest Means Big Demand For MaxiTRANS Bulk Haulage Equipment
Australian Government agricultural forecaster ABARES estimates that more than 24 million tonnes of winter grain crop will be harvested this season. The winter crops, which are more than has been seen for the best part of a decade, are thanks in large part to drought-breaking rains across South East Australia. As harvesters across Victoria, South Australia, and New South Wales reap the golden crop, MaxiTRANS has seen an unprecedented demand for its bulk haulage vehicles and trailers—both to get the crop into storage silos and then transport it to mills or shipping ports.
Supporting The Wheat Belts
The grain harvest in South Australia is current rolling down from the northern and western wheat belt, and is expected to conclude in the South East during the height of summer. "There's a lot of variety of combinations down here in South Australia from B-Doubles, road trains to A B Triples," says MaxiTRANS SA State Sales Manager Kym Penhall, noting that these configurations allow customers to apply for a low-cost permit through the NHVR portal to gain approval on the routes they want to travel.
Configurations To Support Heavy Loads
MaxiTRANS bulk haulage tipper products primarily fall under the firm's Lusty EMS and Hamelex White brands. Lusty EMS options include semi-tippers that support bulk haulage for single-trailer work or B-Double combinations. The Stage B-Double combos preclude the need to unhook to unload. The Hamelex White brand includes a wide range of tippers and bulk haulage equipment, including B-Double tippers, up to six-axle truck and dog combinations, tip over axle (TOA), moving floor, and chassis tippers. Hamelex White's diverse range of tippers, which support greater payload and offer low tare weight, are ideally suited for grain haulage.
Source: MaxiTRANS
Related Articles
MaxiTRANS Finance Behind Every Australian Industry
View Details
Written Off - Don't Believe It
View Details
Lusty EMS design sliding hook loader b-double
View Details
MaxiPARTS Head Office Relocation
View Details
Gilders Increase Productivity With Award Winning Technology
View Details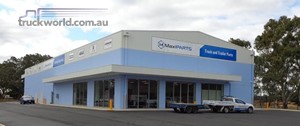 MaxiPARTS Bendigo Relocation
View Details
MaxiTRANS Launches Van Rental Division
View Details
View More News
View all Related Ads