MaxiTRANS Adds A New Dealer In Northern Victoria
MaxiTRANS has announced that Graham Thomson Motors (GTM) of Shepparton in the Northern Victoria region has joined its dealer network. GTM will distribute all of MaxiTRANS' trailer brands, including Freighter, Maxi-CUBE, Lusty EMS, Hamelex White, Trout River Australia, AZMEB, and Peki.
Trailer manufacturer and parts supplier MaxiTRANS has a 65-year history of working with the Mildura Truck Centre (MTC), which acquired the GTM dealership in 2011. MTC operates MaxiTRANS dealer locations in Northwest Victoria and Western New South Wales.
"We are excited to continue to expand the MTC relationship with MaxiTRANS and add Graham Thomson Motors to its dealer network," said MTC Dealer Principal Glenn Leake. "The extension of trailer sales to the existing parts, service, and truck offerings allows us to truly be a one-stop shop for our valued customers in the Shepparton region, giving us the added flexibility to offer an even wider range of transport solutions."
About Graham Thomson Motors
GTM is strategically located on an approved B-double route through Shepparton, two hours north of Melbourne—the only such route, in fact—so heavy haulers have a convenient service location right along the legal avenue. The dealership provides full maintenance services for both trucks and trailers. It has 12 service bays and several dedicated trailer technicians on site at its 5-acre location.
About MaxiTRANS
MaxiTRANS locally manufactures heavy haul trailers for the bulk transport, temperature controlled freight, and general freight markets in both Australia and New Zealand. Its MaxiPARTS division maintains 21 sites around the continent to supply everything from consumables such as tyres, brakes, oil, and lights to durable goods including axles, suspensions, and tools.
The addition of GTM in Shepparton is "yet another example of MaxiTRANS' commitment to providing greater access to our industry leading aftermarket service and support network for our customers nationally," said MaxiTRANS' Group General Manager for Sales and Marketing, Andrew McKenzie. "It shows we are ready to invest in providing the products and services required so our customers know they can rely on us and they can continue doing their job of delivering the needs of a nation."
Related Articles
Colrain has Trailer Parts Covered
View Details
Written Off - Don't Believe It
View Details
New Larger Dandenong Premises for Hamelex White and MaxiTRANS Repairs and Service
View Details
MaxiTRANS Max Out at ITTES 2012
View Details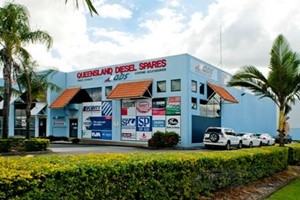 MaxiTRANS acquires Queensland Diesel Spares
View Details
Sell and Parker Takes Delivery of Specialised Hamelex White Hooklift Bin Trailer
View Details
MaxiPARTS Head Office Relocation
View Details
View More News
View all Related Ads