MaxiTRANS Continues Annual Drive To Support Mental Health
MaxiTRANS recently announced it raised $15,000 in this year's R U OK? Day campaign. The company, along with dealer partners Mildura Truck Centre and G&A Lombardi, donated 1% of trailer, truck, and parts transactions from the day, totaling $15,000, to suicide prevention. Since the event began in 2017, MaxiTRANS has raised $60,000 for the cause. R U OK? Day is held every September to raise awareness for mental health and suicide prevention. This year's event was held virtually due to the pandemic and featured online mental health sessions with MaxiTRANS' EAP provider to teach staff ways to cope with mental health issues, especially important during high-stress times like the present.
Challenging Times
"This year made it even more important for us to stop to reflect on R U OK? Day and the message it delivers. The need for increased awareness of mental health and the challenges it places on everyone is certainly more evident at this particular point in time," says MaxiTRANS Managing Director and CEO Dean Jenkins. "It's a challenging time for all of us and a day like R U OK? Day is an important one to celebrate. Most importantly though, we should not limit suicide prevention to one day a year," he says. "If you see someone struggling, at any time, ask them 'R U OK?'"
Help Is Available
If you, or someone you know, needs crisis or suicide prevention support, please call Lifeline on 13 11 14 or visit www.lifeline.org.au/get-help.
Related Articles
MaxiTRANS Finance Behind Every Australian Industry
View Details
Written Off - Don't Believe It
View Details
Lusty EMS design sliding hook loader b-double
View Details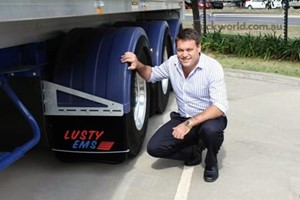 Lusty EMS and AZMEB Appoint National Sales Manager
View Details
MaxiPARTS Announces Mackay Expansion
View Details
MaxiPARTS Expands in NSW
View Details
Gilders Increase Productivity With Award Winning Technology
View Details
View More News
View all Related Ads