MaxiTRANS Donates Masks To Ballarat Help Organisations
MaxiTRANS recently donated 1,200 washable face masks to Victorian-based community help organisations in Ballarat, including McCallum Disability Services, Soup Bus, Ballarat Regional Industries and Federation University. Three hundred masks were given to each organization. The handover took place at MaxiTRANS' Ballarat manufacturing facility.
Supporting The Most Vulnerable
"Today is about recognising the fantastic work and dedication that each organisation has to support the local Ballarat community," says MaxiTRANS Group Procurement Manager Anthony Long. "We recently organised facemasks for all our staff across the MaxiTRANS business to help us be COVID-safe. However, we also wanted to extend this by supporting those in need within the local region which includes some of the most vulnerable in our community."
About The Organisations
McCallum, a registered NDIS organization, has provided education, welfare, therapy, employment, accommodation, and support to those with disabilities and their families within the Ballarat region since 1953. The Soup Bus, run by OnTrack Foundation, provides an after-dark meal service to Ballarat's less fortunate and homeless. Federation University is a dual-sector university based in Ballarat which offers education and courses in both academic and trade backgrounds. Ballarat Regional Industries, established in 1984, is a business that offers paid employment in manufacturing, recycling, landscape and gardening, and maintenance services for those with disabilities within the Ballarat region.
"This past year has certainly been a challenge for everyone with the ongoing impacts of COVID-19," Anthony says. "It is important to remember that many in our community, particularly the less fortunate and most vulnerable, may not have the means to access face masks to keep them safe. We hope that today's donation plays a part in helping keep the local community safe during these times."
Source: MaxiTRANS
Related Articles
MaxiTRANS Finance Behind Every Australian Industry
View Details
Written Off - Don't Believe It
View Details
Lusty EMS design sliding hook loader b-double
View Details
MaxiPARTS Head Office Relocation
View Details
Gilders Increase Productivity With Award Winning Technology
View Details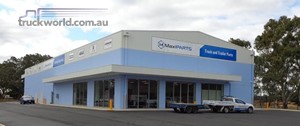 MaxiPARTS Bendigo Relocation
View Details
MaxiTRANS Launches Van Rental Division
View Details
View More News
View all Related Ads