MaxiTRANS Offers Support Following Economic Package Announcement
As part of a recent $17 billion stimulus package aimed at helping citizens get through the current COVID-19 (coronavirus) pandemic, the Australian government is also setting aside funds to stabilize businesses and encourage investment. One part of the package involves allowing companies with turnovers of $500 million or less to "deduct 50% of the cost of an eligible asset on installation, with existing depreciation rules applying to the balance of the asset's cost." This incentive is available from now through 30 June 2021.
Another clause gives businesses in that same turnout range an instant asset write-off of $150,000 from now until 30 June 2020, which is a substantial increase over the previous $30,000 threshold for businesses with turnovers of less than $50 million.
Support From MaxiTRANS
MaxiTRANS fully supports the government's decision to stimulate the economy and wants to help its customers make effective use of the incentives. As such, the company plans to increase production to bolster the number of trailers currently in stock to ensure that customers get the trailers they need before the end of the fiscal year. MaxiTRANS also encourages customers to get in orders now for custom-built trailers to ensure delivery before 30 June 2020.
Another Challenge To Overcome
"It has been a challenging start to 2020 for our customers, acknowledging the devastation caused by the bushfires, on-going drought, and now the impact that the Coronavirus is having on the industry," says Dean Jenkins, managing director and CEO of MaxiTRANS. "We want to reassure our customers that we are here to partner with them to help them grow and succeed, especially during these challenging times."
"We are reminding our customers that the instant asset write-off and depreciation rules are available for multiple units, not just a one-off purchase," Jenkins continues. "Additionally, customers may wish to invest in capital asset upgrades, including upgrading their suspension or fridge plants on existing trailers, which too fall within the write-off and depreciation rules."
Related Articles
MaxiTRANS Finance Behind Every Australian Industry
View Details
Written Off - Don't Believe It
View Details
Lusty EMS design sliding hook loader b-double
View Details
MaxiPARTS Head Office Relocation
View Details
Gilders Increase Productivity With Award Winning Technology
View Details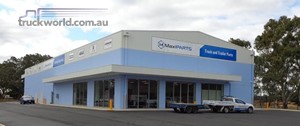 MaxiPARTS Bendigo Relocation
View Details
MaxiTRANS Launches Van Rental Division
View Details
View More News
View all Related Ads