MaxiTRANS Opens New Manufacturing Plant In Carole Park, First Trailer Already Produced
Trailer production has begun at a new 14,303-square-metre heavy-duty trailer manufacturing plant that MaxiTRANS recently opened in Carole Park, Queensland. The facility replaces the company's existing manufactory in Richlands and is expected to boost MaxiTRANS' Australian manufacturing capability. MaxiTRANS claims to be biggest supplier of locally manufactured high-quality heavy road transport trailer solutions in Australia and New Zealand, with products available under the Freighter, Maxi-CUBE, Lusty EMS, Hamelex White, Trout River, AZMEB, and Peki brands.
Quality Outcomes
"The new Carole Park facility is an exciting expansion for MaxiTRANS which will provide greater safety, flexibility, efficiency, and quality outcomes for our business and our customers," says MaxiTRANS Managing Director and CEO Dean Jenkins. "Designed to match the equipment levels and standard processes available at Ballarat, Carole Park will provide greater capacity to the MaxiTRANS Group and will allow us to continue to better serve our customers with the ability to cover any total market growth."
Although the Richlands plant predominantly produced bulk transport trailers, Dean says the new facility can also build Freighter products. The first trailer from the new facility was produced this month. MaxiTRANS expects the Carole Park plant will help create up to 70 new operational jobs over the next five years, with some assistance from a Unite and Recover initiative the Queensland government launched to support jobs and industry during the COVID-19 pandemic. The new plant will also create training and skills development opportunities with local TAFE (Technical and Further Education) institutions and universities.
"Flexibility To Expand"
"With the help of the Queensland government, we have a new facility that gives us more scope and flexibility to expand our Australian manufacturing capability, as well as further bolster our aftersales support here in Queensland," Jenkins says.
Related Articles
MaxiTRANS Finance Behind Every Australian Industry
View Details
Written Off - Don't Believe It
View Details
Lusty EMS design sliding hook loader b-double
View Details
MaxiPARTS Head Office Relocation
View Details
Gilders Increase Productivity With Award Winning Technology
View Details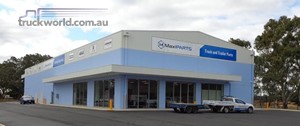 MaxiPARTS Bendigo Relocation
View Details
MaxiTRANS Launches Van Rental Division
View Details
View More News
View all Related Ads