MaxiTRANS To Showcase Their Parts & Service Capabilities Brisbane Truck Show
Stand No. 49 is where you'll find MaxiTRANS at the upcoming Brisbane Truck Show scheduled for 16 to 19 May at the Brisbane Convention & Exhibition Centre. Billing itself as Australia's leading supplier of road transport equipment for the general freight, temperature-controlled freight, and bulk-transport sectors, MaxiTRANS notably says it will demonstrate its "end-to-end capability" for the first time at that show. That includes highlighting its MaxiPARTS and MaxiTRANS Servicing solutions, as well as the Live Bottom Trailer solution it obtained from its newly acquired Trout River Australia brand.
To The Max
Founded in 1972 as Maxi-Cube, MaxiTRANS owns that brand, plus the Freighter, Hamelex White, Lusty EMS, AZMEB, Peki, Colrain, and QDS brands and businesses. Besides road transport equipment, MaxiTRANS offers repair and service offerings and is a major parts supplier through its MaxiPARTS division. Company reps at the Brisbane show will discuss the MaxiPARTS program, which includes 20,000-plus truck and trailer parts available online and at 20-plus Australian locations. Reps will highlight the merits of the company's MaxiSTOCK automated and cloud-based inventory-management system.
The event will also find MaxiTRANS promoting the launch of MaxiASSIST, a new service program that it says will operate complementarily to its existing service abilities. Additionally, MaxiTRANS will highlight its recent acquisition of Trout River Australia" and will displaying a Live Bottom Floor trailer, which is able to unload content while in motion via an interior conveyor belt system.
There's Still More To See
Elsewhere, MaxiTRANS will highlight Freighter's T-Liner Mark II trailer, which features a safety-related SafeADJUST Mezzanine Deck solution, and new lightweight Skel, which promises "significant efficiency gains" for owners, MaxiTRANS says. MaxiTRANS will also unveil enhancements it has made to its Maxi-CUBE Classic dry freight and temperature-controlled vans, and have in-house PBS (Performance Based Standards) specialists and a Hamelex White aluminum four-axle dog tipper available to discuss PBS trailer benefits.
If you're in the market for new or used MaxiTRANS trailers, you'll find scores of options for sale on TruckWorld.com.au, including skeletal, curtainsider, flat top, A, B double, and drop-deck trailers.
Related Articles
Colrain has Trailer Parts Covered
View Details
Written Off - Don't Believe It
View Details
New Larger Dandenong Premises for Hamelex White and MaxiTRANS Repairs and Service
View Details
MaxiTRANS Max Out at ITTES 2012
View Details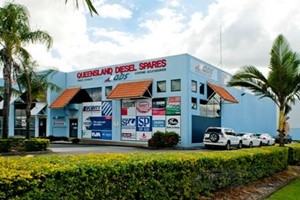 MaxiTRANS acquires Queensland Diesel Spares
View Details
Sell and Parker Takes Delivery of Specialised Hamelex White Hooklift Bin Trailer
View Details
MaxiPARTS Head Office Relocation
View Details
View More News
View all Related Ads