MaxiTRANS Update Regarding COVID-19
This post is courtesy of MaxiTRANS Australia.
Like many businesses, MaxiTRANS is working through planning and actively implementing actions in our business so we can continue to deliver for our customers and to protect the health and well-being of our people during this demanding time.

MaxiTRANS' COVID-19 Management Committee is managing and monitoring the situation across all of our operations in Australia and New Zealand on a daily basis. As you will be aware, the situation involving public management of COVID-19 is constantly changing.

As a result, we have implemented the following measures across all of our Australian sites effective immediately and will remain in place until MaxiTRANS advises otherwise.

Restrictions to site visits, including:

General site visits will not be allowed
Access to sites will be restricted to staff (or equivalent), regulators and essential maintenance staff
Suppliers will be allowed on site for deliveries
Customers are still able to access all sites and locations to purchase parts, drop off or collect trailers, allowing customers to continue to access MaxiTRANS products and services nationally.
Introduction of distancing measures

Workplace distancing and separation processes are currently being put in place to maintain operational continuity in the event of a COVID-19 infection
Distancing zones to be implemented at customer facing counters

Given the rapidly changing environment, like most businesses we are constantly assessing and adjusting activity as required. We are currently operating with a "modified business as usual" approach with all sites and services remaining available. Until such time that advice suggests otherwise, we want to ensure our customers that production and services remain fully operational at this time.

We will keep you informed with further updates, however look forward to continuing to support our customers during the COVID-19 situation.
Related Articles
MaxiTRANS Finance Behind Every Australian Industry
View Details
Written Off - Don't Believe It
View Details
Lusty EMS design sliding hook loader b-double
View Details
MaxiPARTS Head Office Relocation
View Details
Gilders Increase Productivity With Award Winning Technology
View Details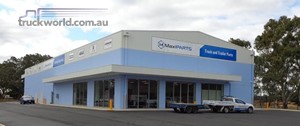 MaxiPARTS Bendigo Relocation
View Details
MaxiTRANS Launches Van Rental Division
View Details
View More News
View all Related Ads