Miles Transport Adds New Maxi-Cube Classic Hi-Cube Refrigerated B-Double To Its Almost Entirely MaxiTRANS Fleet
Miles Transport, a family-operated cargo and freight company based in Monbulk, Victoria, recently purchased a new MaxiTRANS Maxi-Cube Classic Hi-Cube Refrigerated B-double trailer configuration. Hi-Cube trailers have thinner walls to maximise interior cargo space, but still use the same insulation as the company's other Maxi-Cube Reefer trailers, allowing them to support temperatures as low as minus 18 degree Celsius. This makes the trailer ideal for the transporting flowers, produce, and other perishable items.
MaxiTRANS Maxi-Cube Improvements
The new Hi-Cube model will replace a similar Maxi-Cube trailer combination purchased by Miles Transport in 2009, but Geoff Miles, the company's co-director, points out some of the many upgrades made to the Maxi-Cube Classic range over the past decade. "In addition to significant tare weight savings, the latest Maxi-Cube Refrigerated Classic design has a thermal efficiency improvement of over 5% compared to the previous design. This translates to improved performance, integrity of carried product, and fuel efficiency for our customers," he says. "What's more, the inclusion of a full-length chassis, as well as a reinforced floor and rear frame, offers greater strength and durability without impacting on tare weight."
Long-standing Relationship
Miles Transport started out buying used Maxi-Cube trailers, one of which was a 1995 that is still in operation, but purchased its first new model in 2001.Today, the company currently has 13 trailers in its fleet, with 12 of those being Maxi-Cube refrigerated trailers. Miles points to his "very good relationship" with MaxiTRANS area sales manager Troy Kitchen and the rest of the MaxiTRANS team as one reason why the company decided to stick with the brand, but overall product quality also played a major role.
"The quality of Maxi-Cube trailers is second to none. They are constantly working to better the product and as a result, with every new trailer there has been an improvement," says Miles. "Refrigeration is always a key consideration in the construction. Freezer burn can damage fragile goods such as freshly cut flowers, which is why the design of chutes from the fridge plays a big role in the even distribution of air within the trailer. This feature also comes in handy for storage and transport of other perishables such as fresh strawberries and other local produce that we also cart."
Related Articles
MaxiTRANS Finance Behind Every Australian Industry
View Details
Written Off - Don't Believe It
View Details
Lusty EMS design sliding hook loader b-double
View Details
MaxiPARTS Head Office Relocation
View Details
Gilders Increase Productivity With Award Winning Technology
View Details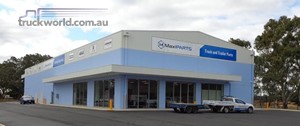 MaxiPARTS Bendigo Relocation
View Details
MaxiTRANS Launches Van Rental Division
View Details
View More News
View all Related Ads