Cameron Group acquire four Euro 6 Mercedes-Benz trucks
Cameron Group acquire four Euro 6 Mercedes Benz trucks
The Glen Cameron Group, a Melbourne-based national logistics company with a massive fleet of over 350 vehicles, recently announced that it is taking more responsibility for the company's impact on the environment by acquiring four new Euro 6 Mercedes-Benz trucks.
Shrinking its carbon footprint
The new trucks from Mercedes-Benz reduce particulate matter by 99 percent, produce 97 percent fewer nitrogen oxides, and deliver 7 percent more fuel economy compared to previous Euro 5 models. Like the rest of the Glen Cameron fleet, the new trucks will be painted yellow and white, but the Euro 6 trucks also feature a distinctive green ribbon to signify the company's renewed dedication to conservation and improving air quality.
According to Company Managing Director, Glen Cameron, the new trucks are just the beginning. "As we progress with our fleet replacement programs and consider that the average Cameron fleet age is only 3.5 years, we expect that within a relatively short period that a substantial part of our fleet will be comprised of Euro 6 vehicles." This is welcomed news for Daimler Truck and Bus Australia President and CEO, Daniel Whitehead, who was tasked with delivering the new trucks. Whitehead sees a bright future for the new trucks. "Our new generation Mercedes-Benz range has proven that it is possible for Australian operators to use less fuel and less AdBlue [diesel exhaust fluid] while cutting emissions at the same time," he said in a news release.
Safety
In addition to benefiting the environment, the new Euro 6s will also be a boon for operators. That's all thanks to the optional Safety Pack that Glen Cameron Group added on. The safety pack consists of automatic emergency braking, speed regulating, and driver alerting technologies.
The Euro 6 Mercedes-Benz trucks feature a fuel-saving six-cylinder 11-litre engine capable of producing an impressive 430 horsepower. If you're looking for a little more power, however, you can get the prime mover Mercedes-Benz trucks with your choice of a 13-litre, 530-horsepower engine or a 16-litre, 625-horsepower engine.
Related Articles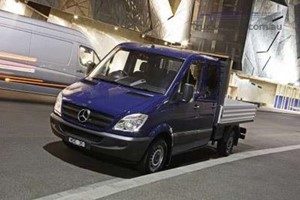 New Models and Features for 2008 Mercedes-Benz Vans
View Details
Toll Group Takes Delivery of its 100th Euro 5-Compliant Mercedes-Benz Truck
View Details
Mercedes-Benz Vito
View Details
Driver's Airbag and Safety Package for Mercedes-Benz Actros
View Details
Mercedes-Benz Ensures Local Infrastructure for Bluetec® Truck Engine Technology
View Details
The Mercedes-Benz Sprinter: Helping Food Distribution Charity SecondBite
View Details
Mercedes-Benz presented with European Safety Award for its brilliant Active Brake Assist System
View Details
View More News
View all Related Ads