Crossling Contractors Uses Mercedes Benz Zetros as Fertiliser Spreader
Mercedes-Benz Zetros trucks are often used for mining, firefighting, and other applications throughout Australia, but Crossling Contractors is now using it as a spreader on farmlands in South Australia. The family-owned business operates out of Naracoorte in South Australia, and takes advantage of the 4x4 Zetros with a bonnet to throw fertiliser, gypsum, and other materials meant to improve the health of the soil.
Crossling Contractors, which has been around for 40 years, most recently used a Mercedes-Benz Axor in a cabover configuration for this exact purpose and decided to go with the Zetros thanks to a few important similarities. For example, the interior of the Zetros is nearly identical to that of the Axor, a truck that stood up to 8,500 operating hours, which is particularly impressive when you consider how it was used. "Spreading is tough on the trucks given they are exposed to fertilisers," said John Crossling, founder of Crossling Contractors, "so they have a tough time."
Mercedes-Benz Zetros On The Job
Aside from durability, what makes the Mercedes-Benz Zetros a particularly good fit for Crossling Contractors is that it has a reliable Allison automatic transmission, a cab designed specifically for driver comfort, and a wider wheelbase with tyres that maintain traction in all conditions.
In addition to the model used by Crossling, the Zetros also comes in a 6x6 configuration, but both models take advantage of a 7.2-litre 6-cylinder engine that produces up to 330 horsepower and 1,300 newton metres of torque. The Zetros offers up a combination of power and dependability that has not only made it a worthwhile addition to Crossling's fleet, but has also made it a popular model for multiple operations across Australia.
Related Articles
Toll Group Takes Delivery of its 100th Euro 5-Compliant Mercedes-Benz Truck
View Details
Mercedes-Benz Ensures Local Infrastructure for Bluetec® Truck Engine Technology
View Details
The Mercedes-Benz Sprinter: Helping Food Distribution Charity SecondBite
View Details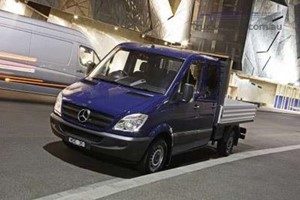 New Models and Features for 2008 Mercedes-Benz Vans
View Details
Mercedes-Benz Vito
View Details
Mercedes-Benz presented with European Safety Award for its brilliant Active Brake Assist System
View Details
Driver's Airbag and Safety Package for Mercedes-Benz Actros
View Details
View More News
View all Related Ads