Daimler Applauds NHVR For Encouraging Cleaner, Safer Trucks
Daimler Truck and Bus has expressed support for the National Heavy Vehicle Regulator as it released its Vehicle Safety Environmental Technology Uptake Plan, which lays out a way to streamline the incorporation of new technologies to make trucks safer and more efficient, and to reduce their emissions output.
"The NHVR has a critical role in being able to help the increased take up of lifesaving safety technology and improved emission technology, so it is fantastic that the team has stepped up to advocate for positive change," says Daimler Truck and Bus Australia Pacific President and CEO Daniel Whitehead.
Autonomous Emergency Braking
Whitehead says that Australian legislators should push harder for the adoption of truck safety technologies such as autonomous emergency braking (AEB), which Daimler introduced to the market in 2010 as standard on its Mercedes-Benz Actros and to the light-duty truck class in 2019 by way of the Fuso Canter.
"Fleets who have taken up this technology in Australia and some of Daimler's overseas markets have measured a dramatic reduction in costs from nose-to-tail accidents that either don't happen or just aren't as severe," Whitehead says. "So, even from a purely economical perspective, this technology makes sense. But that doesn't take into account the reduction of road trauma and human cost that those accidents may have caused were it not for AEB."
Euro 6 Engines
Daimler also lauds the NHVR report's emphasis on cleaner, more efficient engines that comply with Euro 6 standards. Its Freightliner brand's Cascadia became the first standard Euro 6 conventional truck in Australia in late 2019, the company says. Its Mercedes Actros line has offered Euro 6 compliance throughout its product family since 2016.
"Going to a Euro 6 engine reduces particulate matter by more than 99% and reduces nitrogen oxide by more than 97%, as well as being quieter," says Whitehead. "In our case, Daimler Euro 6 engines have also delivered fuel savings."
Daimler's Fuso Australia also plans to introduce the eCanter, the industry's first fully electric, series production truck.
Related Articles
Toll Group Takes Delivery of its 100th Euro 5-Compliant Mercedes-Benz Truck
View Details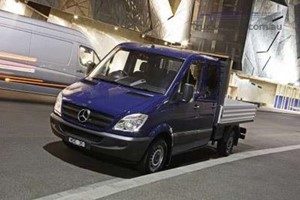 New Models and Features for 2008 Mercedes-Benz Vans
View Details
Driver's Airbag and Safety Package for Mercedes-Benz Actros
View Details
Mercedes-Benz Vito
View Details
The Mercedes-Benz Sprinter: Helping Food Distribution Charity SecondBite
View Details
Mercedes-Benz presented with European Safety Award for its brilliant Active Brake Assist System
View Details
Mercedes-Benz Ensures Local Infrastructure for Bluetec® Truck Engine Technology
View Details
View More News
View all Related Ads