Daimler Trucks Adelaide & Fuso Port Melbourne Earn Their Elite Support Certifications
Daimler Trucks Adelaide in South Australia and Fuso Port Melbourne in Victoria are the two newest dealerships in the Daimler network to earn their Elite Support certifications. The process requires meeting 129 criteria and these most recent certifications bring the total to seven Elite Support-certified truck dealerships in Australia and New Zealand.
"We are thrilled to see Daimler Trucks Adelaide and Fuso Port Melbourne achieve Elite Support Certification and offer their customers an even higher level of service," says Daniel Whitehead, president and CEO of Daimler Truck and Bus Australia Pacific. "All dealerships who achieve this important certification are required to make a wide range of investments and improvements across their businesses; it is not easy, but the end result is a better experience for our customers."
Elite Support Details
Daimler says Elite Support "delivers a new level of service for Mercedes-Benz, Freightliner, and Fuso customers across Australia and New Zealand." The goal is to provide customers with an Express Assessment, meaning the dealer diagnoses the issue, makes sure the proper parts are in stock, and then lets the owner of the vehicle know what's wrong, roughly how much it will cost to fix it, and how long it will take—all in less than two hours. First introduced in dealerships throughout the Daimler Trucks North America network, Elite Support is about serving customers with speed and accuracy and reducing downtime as much as possible.
Comments From The Dealers
"Achieving Elite Support certification has been a hugely satisfying achievement, not only professionally but personally as well," says Leroy Tricker, continuous improvement coordinator at Daimler Trucks Adelaide. "As a team we are now looking forward to growing as a continuously improving dealership as part of an ever-growing network."
"There is no better satisfaction then being rewarded for hard work," says James Ferguson, continuous improvement coordinator at Fuso Port Melbourne. "Being recognised nationally as an Elite Support certified dealer allows us to demonstrate a positive point of difference to the customer and to our working team."
Related Articles
Mercedes-Benz Vito
View Details
The Mercedes-Benz Sprinter: Helping Food Distribution Charity SecondBite
View Details
Mercedes-Benz Ensures Local Infrastructure for Bluetec® Truck Engine Technology
View Details
Mercedes-Benz presented with European Safety Award for its brilliant Active Brake Assist System
View Details
Driver's Airbag and Safety Package for Mercedes-Benz Actros
View Details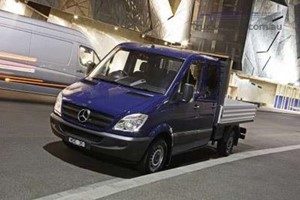 New Models and Features for 2008 Mercedes-Benz Vans
View Details
Toll Group Takes Delivery of its 100th Euro 5-Compliant Mercedes-Benz Truck
View Details
View More News
View all Related Ads