Mercedes Benz unveils new all wheel drive trucks
Mercedes-Benz recently revealed its new generation of all-wheel-drive trucks with options for 4x4, 6x6, and 8x8 models. The company designed these trucks for use in construction, mining, spreading fertiliser, and other applications, as well as for general off-road driving. Mercedes-Benz provides a wealth of configuration options, including everything from a 16-tonne 4x4 rigid model that offers up to 300 horsepower to the 41-tonne 8x8 model that produces up to 460 horsepower. They come standard with 8-litre or 11-litre six-cylinder engines, but a 13-litre option is also available.
"Second To None"
"Our new generation prime mover and rigid models have been demonstrating excellent performance, economy and driver comfort across Australia and now we are excited to introduce our new range of all-wheel drive models," says Michael May, director of Mercedes-Benz Truck and Bus Australia. "The versatility, robustness, and capability of these trucks is second to none, and we think our customers will appreciate the ground-up design that brings a range of benefits."
Options For All
Mercedes-Benz's new AWD range is all about choice. The 8-litre engines offer 300- or 350-horsepower configurations, and the 11-litre engines offer 400-, 430-, or 460-horsepower options. Customers can also choose among an eight-speed PowerShift automated transmission, a nine-speed manual, or an Allison five-speed torque convertor automatic, which is available on models with the 300 HP engine. The 11-litre engine comes with a 16-speed automatic PowerShift transmission built for smoother gear changes for ultimate manoeuvrability.
Other features include standard driver assistance and safety technologies, such as an electronic braking system, hill hold assist, traction control, anti-lock brakes, and anti-slip regulation (ASR). Mercedes-Benz also redesigned the cab of its new AWD trucks with safety and driver comfort in mind. The firm built the cab from ultra-high-tensile steel that stands up to the Swedish Cab Test and other standards, and relocated the controls to provide a more ergonomic driving experience.
Related Articles
Toll Group Takes Delivery of its 100th Euro 5-Compliant Mercedes-Benz Truck
View Details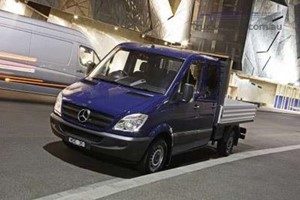 New Models and Features for 2008 Mercedes-Benz Vans
View Details
Mercedes-Benz Vito
View Details
Mercedes-Benz presented with European Safety Award for its brilliant Active Brake Assist System
View Details
Mercedes-Benz Ensures Local Infrastructure for Bluetec® Truck Engine Technology
View Details
The Mercedes-Benz Sprinter: Helping Food Distribution Charity SecondBite
View Details
Driver's Airbag and Safety Package for Mercedes-Benz Actros
View Details
View More News
View all Related Ads