Mercedes-Benz Introduces 12-Seat Sprinter Transfer Minibus In 414 & 416 Variants
Mercedes-Benz recently added a 12-seat minibus to its Sprinter range, the Sprinter Transfer, which is available as a 414 or 416 variant. The 414 features a 105-kilowatt (141-horsepower) engine that produces 330 newton-metres of peak torque, while the 416 features a 120-kW (161-hp) engine that produces 360 N-m of peak torque. Both models come standard with seven-speed 7G-TRONIC PLUS transmissions designed for smoother shifting, improved fuel efficiency, and lower maintenance costs. The 416 also has a number of premium upgrades, such as alloy wheels, an overhead comfort control panel, light and rain sensors, an electric rear sliding door, and others.
Mercedes-Benz points out that all Sprinters have maximum service intervals of up to 40,000 kilometres (24,855 miles) or two years and are covered by five-year/250,000-km (155,343-mi) warranties with roadside assistance standard for the duration of the plan.
Driver-Focused Features
The new Sprinter Transfer has several features designed for driver comfort and control, including keyless start, separate air conditioning controls for the driver and passenger, adjustable seats and armrests, USB ports in the seating rows, and more. Standard technologies include a Mercedes-Benz User Experience (MBUX) system with telematics, satellite navigation, and a 7-inch HD display, with the option to upgrade to a 10.25-inch version. MBUX features can be controlled via steering wheel buttons, the touchscreen display, or voice commands. The system is also compatible with Apple CarPlay and Android Auto.
Safety & Driver Assistance Features
Mercedes-Benz also offers a wide range of standard safety features on the Sprinter Transfer, including ATTENTION ASSIST, lane keeping assist, active brake assist, blind spot assist, crosswind assist, a reversing camera, and front and window-side airbags on the driver and passenger sides. Optional driver assistance features include adaptive cruise control, active lane keeping assist, and a Parking Package with a 360-degree camera.
Related Articles
Mercedes-Benz Ensures Local Infrastructure for Bluetec® Truck Engine Technology
View Details
The Mercedes-Benz Sprinter: Helping Food Distribution Charity SecondBite
View Details
Driver's Airbag and Safety Package for Mercedes-Benz Actros
View Details
Mercedes-Benz Vito
View Details
Mercedes-Benz presented with European Safety Award for its brilliant Active Brake Assist System
View Details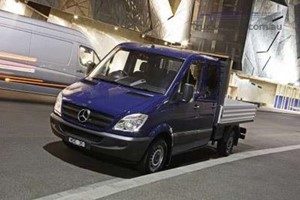 New Models and Features for 2008 Mercedes-Benz Vans
View Details
Toll Group Takes Delivery of its 100th Euro 5-Compliant Mercedes-Benz Truck
View Details
View More News
View all Related Ads