Mercedes-Benz Introduces New Actros With Active Brake Assist 5, Predictive Powertrain Control & Optional MirrorCam System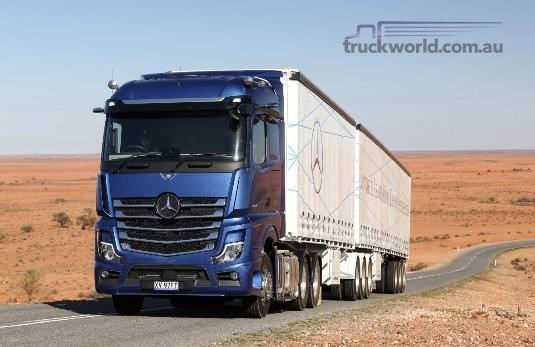 Mercedes-Benz recently unveiled the newest iteration of the Actros, which features a mix of new technologies and proven features. Perhaps the most exciting addition is the option for a MirrorCam system that replaces side mirrors with cameras and 15-inch A-pillar-mounted displays located inside the cab. The manufacturer says the MirrorCam improves fuel efficiency, because the cameras are mounted on "aerodynamic wings," which also improve visibility because they don't have the same large housings required by traditional mirrors. The company adds that "the cost to replace MirrorCam is no more than replacing a traditional side mirror."
"We're excited about bringing our Australian customers the world's best heavy truck technology and give them an edge by driving down costs and helping increase their profitability," says Andrew Assimo, director of Mercedes-Benz Trucks Australia Pacific. "The existing Actros has been great on fuel, but the new one is even better. That's certainly the message we've been receiving from our validation fleet participants."
Other New Features
Another major upgrade for the new Actros is Active Brake Assist 5, which features an improved Autonomous Emergency Braking system that can bring the truck to a stop if it "detects moving pedestrians" or "moving or stationary vehicles," Mercedes-Benz explains. The truck also comes standard with lane keeping assist, attention assist, and the proximity control assist adaptive cruise control. Predictive Powertrain Control (PPC) uses GPS and topographical data to smoothly change gears and analyses upcoming terrain, including hills and dips, to select the correct gear for the situation and improve efficiency. It can work together with predictive cruise control when the truck is traveling at between 25 and 100 kilometres per hour.
The MultiMedia Cockpit is also a new addition to the Actros and consists of two high-resolution dashboard displays, with options for either 10- or 12-inch screens. One of the displays takes the place of the instrument cluster behind the steering wheel, while the display to the left features touch controls and buttons. The steering wheel also features touch control buttons. The cab itself features Mercedes-Benz's SoloStar design philosophy, including a bed with an 850-millimetre mattress that folds up to free up space during the day. Other new features include LED daytime running lights, keyless start, and an automatic electronic parking brake.
Carried-Over Features
Some features and technologies remain unchanged from past Actros models, including options for axle configurations ranging from 4x2 to 8x8. Engine options include the 8-litre OM 936, 11-litre OM 470, 13-litre OM 471, and 16-litre OM 473, which range from 300 to 630 horsepower (224 to 470 kilowatts). All of these engines have Selective Catalytic Reduction (SCR) systems that use AdBlue diesel exhaust fluid (DEF), a diesel particulate filter (DPF), and exhaust gas recirculation to reduce emissions. Transmission options also remain unchanged, with options for 8-, 12-, and 16-speed PowerShift 3 automated manual gearboxes.
The Actros also takes advantage of an existing telematics system to monitor the health and location of the vehicle as well as track driver behaviour and generate alerts automatically in the event of an accident. Telematics can also alert the driver when they are straying too far away from their destination and continue collecting and storing data for up to three months even when outside of GSM coverage.
Related Articles
Toll Group Takes Delivery of its 100th Euro 5-Compliant Mercedes-Benz Truck
View Details
Mercedes-Benz Ensures Local Infrastructure for Bluetec® Truck Engine Technology
View Details
Mercedes-Benz Vito
View Details
The Mercedes-Benz Sprinter: Helping Food Distribution Charity SecondBite
View Details
Mercedes-Benz presented with European Safety Award for its brilliant Active Brake Assist System
View Details
Driver's Airbag and Safety Package for Mercedes-Benz Actros
View Details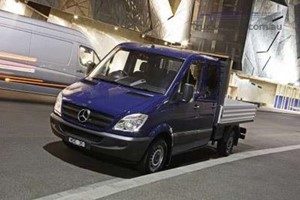 New Models and Features for 2008 Mercedes-Benz Vans
View Details
View More News
View all Related Ads