Mercedes-Benz Will Livestream A Trip From Melbourne To Daylesford On July 4 As Part Of Actros Launch
On Saturday, July 4, Mercedes-Benz will hold a special online event to celebrate the launch of latest Actros truck for the Australian and New Zealand markets. The two-hour stream will invite viewers from all across the region to a virtual ride-along in the truck on a drive from Melbourne to Daylesford.
Mercedes-Benz Trucks Director Andrew Assimo will be seated in the passenger seat during what the company is calling "the Actros Live Drive event." He will be accompanied by a professional driver and Shura Taft, who will help the group field questions from viewers. You can view the stream on the dedicated Actros Live Drive website (www.actroslivedrive.com.au). There is also a video featuring the Actros driving in New South Wales available on the Mercedes-Benz Truck and Bus YouTube channel.
Seeing The Actros In Action
"Normally, we would have held a traditional launch event with a huge amount of our customers, but that is just not possible given COVID-19. Rather than just cancel an event or do something like a simple walk-around of the truck, we decided to head out onto the road and tell our story driving," says Assimo. "We have found the key features of this new truck really shine when it is out on the road. Talking about it on a stage is great, but being able to show the audience the truck as it works is even better."
Mercedes-Benz Actros Details
The livestream will provide an opportunity for viewers to see the most recent updates coming to the Actros range, including the MirrorCam system that replaces side mirrors with cameras and displays, a first for Australia and New Zealand. Other highlighted features will include predictive powertrain control designed to improve fuel efficiency using GPS and topographic information, multimedia cockpit displays, updates to the interior, Active Brake Assist 5 safety enhancements, and Mercedes-Benz's SoloStar "restful cabin concept."
Related Articles
Toll Group Takes Delivery of its 100th Euro 5-Compliant Mercedes-Benz Truck
View Details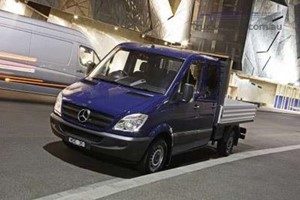 New Models and Features for 2008 Mercedes-Benz Vans
View Details
Mercedes-Benz presented with European Safety Award for its brilliant Active Brake Assist System
View Details
Driver's Airbag and Safety Package for Mercedes-Benz Actros
View Details
Mercedes-Benz Ensures Local Infrastructure for Bluetec® Truck Engine Technology
View Details
Mercedes-Benz Vito
View Details
The Mercedes-Benz Sprinter: Helping Food Distribution Charity SecondBite
View Details
View More News
View all Related Ads