Ablett's Transport Realizes Fuel Savings, Shorter Delivery Times With Scania V8 Trucks
Canberra-based Ablett's Transport recently purchased two new Scania V8 trucks for its delivery business. The company is already reporting fuel and time savings from the trucks as they deliver timber, bricks, tiles, and other dry goods to national retail chains.
"Scania made it easy for us with the test trucks," says Managing Director Duncan Ablett. "It's important we win the drivers over. We gain acceptance by putting drivers in the trucks and letting them see for themselves what the trucks can do."
Time Is Money
Driver Steve Johnson uses one of the Scania V8s to pull a B-double trailer on the route between Canberra and Melbourne. He says that the truck's ability to climb hills has made the trip almost an hour quicker, while simultaneously using 17% less fuel.
"Being able to save both money on fuel and reducing journey times is good for the driver and good for the operator, and in a general sense provides for safer driving conditions for everyone," says Scania Account Manager Stephen Duffy. "All drivers are keen to arrive early and safe. The trucks pull big weights and are traversing hilly areas and are delivering exceptional fuel savings, which is important to operators' bottom lines in any financial year, and even more so in these unprecedented times."
The Scania V8s provide other tangible benefits, as well. "The full air suspension with onboard weight scales make it the most comfortable option with reduced noise, vibration, and roughness all adding to reduce fatigue," Johnson says. "The benefit is a healthier, happier driver."
The Scania V8 Truck Range
Scania sells V8-powered trucks in its R-Series and S-Series. The 520- to 650-horsepower (388- to 485-kilowatt) versions use selective catalytic reduction (SCR) to meet Euro 6 emissions standards, while the 730-hp (544-kW) edition adds exhaust gas recirculation (EGR) to its exhaust aftertreatment system. The engines use a fixed-geometry turbo, Miller camshaft technology, and four-cylinder exhaust manifolds on either side of the block.
The trucks' 12-speed transmissions are available with special features such as Scania Opticruise and the Scania Retarder. Scania's retail market vehicles come with a 5-year/500,000-kilometre maintenance programme.
Source: Scania
Related Articles
Scania and ATA launch guide for prospective owner drivers
View Details
Scania to offer ready to work trucks in Australia
View Details
Valuable fuel savings driven by the new Scania Opticruise with performance modes
View Details
Henrik Henriksson to become Scanias new President and CEO
View Details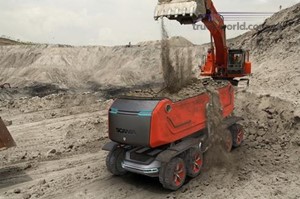 Autonomous transport solutions open up a world of opportunities Scania
View Details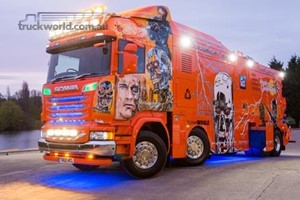 Scania and the rise of the machines
View Details
Scania links up with Ericsson to test 5G mobile technology
View Details
View More News
View all Related Ads