Bulahdelah Haulage Acquires New Scania R 650 V8 Truck To Haul Wood Waste
Greg Dorney, owner of Bulahdelah Haulage, used operate trucks from American marques before purchasing a Scania R 620 V8 truck in 2019. More recently, he added a Scania R 650 V8 to the company's fleet, a truck that works five days a week running a 650-kilometre round-trip route from Gum Scrub to Lake Macquarie and back again. That job entails delivering chipped wood waste to a power plant to produce electricity, but Dorney transports chicken manure, green waste, and sawdust, as well.
Dorney's new Scania R-series is an 8x4 rigid with a 16.4-litre engine that produces 650 horsepower (485 kilowatts) and up to 3,300 newton-metres of torque. The truck also features a 50-cubic-metre bin and hauls a 13.7-metre, five-axle dog trailer with a 95-m3 bin. All told, the combination is just under 26 m long. The bins also feature walking floors from Matilda Walking Floors for easier unloading.
Making It His Own
Dorney also spec'd his Scania with several other add-ons that make it better-suited for its intended application. Examples include a roof-mounted air conditioner, a Whitlock bull bar, a bin-mounted camera, a wash station, Dura-Bright alloy wheels, and more. Trenton Wilks, new truck account manager at Scania Newcastle, the dealer that supplied both Scanias, says they also added a Ringfeder lock system with an alert system built into the dashboard as well as a jackknife alarm and five-camera recording system with three forward-facing and two rear-facing cameras that provide "a high degree of coverage of the truck and its movements."
Already Going Strong
According to Dorney, the Scania R 650 entered operation in May and covered 13,000 km in its first month. He expects the truck to stay on the road for seven years while accruing roughly 135,000 km each year. So far, his biggest compliment to the truck is comfort. He says he has no problem doing paperwork for two hours, driving for 10 hours, and then finishing up paperwork after his return trip. "It's that comfortable," Dorney says. One his drivers, Stewart Wootton, drives the other Scania in the fleet and says "it's the best truck he's ever driven."
Dorney also appreciates the power of the V8 as well as the insight provided by the Scania Driver Trainer system. "The V8 has lots of power, and torque which is great because there's a 20 km stretch that is very hilly, and the Scania Retarder is also very helpful and adds to the safety of the driver and the truck and other traffic," he says. "I'm also looking forward to seeing the Scania Driver Trainer visit so that we can pick up a few tips on efficient driving. After only one month I can see I'm getting a better Driver Support Score than the driver in my R 620."
Related Articles
Scania and ATA launch guide for prospective owner drivers
View Details
Scania to offer ready to work trucks in Australia
View Details
Valuable fuel savings driven by the new Scania Opticruise with performance modes
View Details
Henrik Henriksson to become Scanias new President and CEO
View Details
Scania links up with Ericsson to test 5G mobile technology
View Details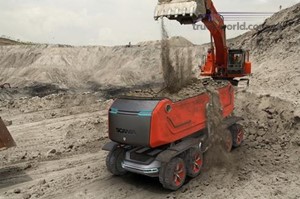 Autonomous transport solutions open up a world of opportunities Scania
View Details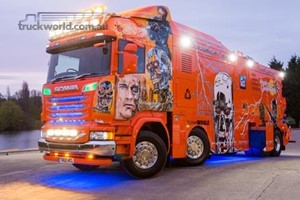 Scania and the rise of the machines
View Details
View More News
View all Related Ads