Cleanaway & Brisbane City Council Use New Scania Fleet To Improve Waste Transport Efficiency
Back in July 2018, fresh off a newly signed contract with the Brisbane City Council, Queensland-based Cleanaway Waste Management enlisted the help of 18 new Scania trucks to haul non-recoverable waste to landfills while "reducing environmental impact as much as possible." The order consisted of 12 Scania R 560 V8 and six G 480 trucks, with the G-series models used to haul 33-tonne capacity B-double tipper trailers and 22-tonne capacity single trailer rear ejector loaders.
"The key criteria for the prime mover selection centred around reliability, flexibility of the trucks to undertake a wide variety of tasks, plus allow for an increase in payload as the amount of waste increases over time, in line with population growth," says Steven Alberse, national fleet manager for Scania. "One of the key attractions of the Scania offer was the Driver Support System that scores the drivers on their driving smoothness and anticipation, as well as the Scania Communicator and vehicle monitoring system which allows our customer to analyse how the vehicles are being used and how well the drivers are performing."
Performance Review
Shannon Gorman, landfill and logistics manager for Cleanaway at the Brisbane City Council Resource Recovery and Innovation Alliance, Solid Waste Services, describes Brisbane's waste transport situation as "extraordinary" and "complex," which is why it required modelling and analysis to identify "significant opportunities for productivity gains." With help from the new fleet, "these gains have been realized," says Gorman. "The bespoke Scania high-productivity multi-combination bulk waste transport vehicles have had a profound influence on the productivity, efficiency, safety and ultimate success of the essential waste services delivered to the city of Brisbane."
Gorman adds that Cleanaway was able to transport "500 kilotonnes of waste over 1.2 million kilometres throughout capital city traffic in just one year," all while maintaining what he believes to be "the safest waste transport fleet in Australia." The trucks operated at HML (Higher Mass Limits), which resulted in fewer trips, "less congestion, reduced emissions, and overall lower impact on Brisbane's road network," Gorman concludes.
Health, Safety & Well-being
Another major focus for Cleanaway while establishing the new fleet was to ensure the "safety, health, and wellbeing of our employees and contractors," Gorman says. This is where Scania's Driver Support System and Communicator solutions came into play, but also all of the available safety features found in Scania vehicles, including advanced emergency braking, adaptive cruise control, lane departure warning systems, electronic stability control, and a smart camera system.
Using real-time driver performance data and vehicle health monitoring, Cleanaway was able to determine what constituted the "true value of a good driver," Gorman explains. "Recognising the need for a partnership with our drivers, we developed a rewards program to promote good driving behaviour and thank our improving and top performing drivers. We have seen our average score increase greater than 25% over the year, equating to significant financial savings as well as improving safety and environmental outcomes."
Related Articles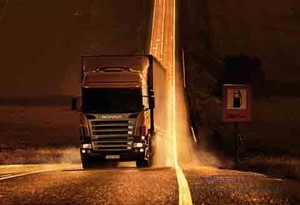 Scania introduces new Service Contracts
View Details
Scania presents the Svempa Red Pearl R 999
View Details
Scania Blue Stream goes with the flow
View Details
Scanias express route to fuel savings
View Details
Scania Year end Report January to December 2015
View Details
Scania charges up Electric Avenue
View Details
Scania to unveil its new truck generation
View Details
View More News
View all Related Ads