Cleanaway Taps Scania Trucks For Brisbane Waste Haulage
Cleanaway, one of the largest waste collection firms in Australia, has been using a fleet of 18 bespoke Scania prime movers to haul Brisbane's rubbish to landfill sites. The diesel-powered R 560 and G 480 trucks have been pulling a greater amount of waste in Higher Mass Limit (HML) loads in fewer trips, reducing emissions and traffic congestion.
"The key criteria for the prime mover selection centred around reliability (and) flexibility of the trucks to undertake a wide variety of tasks, plus allow for an increase in payload as the amount of waste increases over time, in line with population growth," says Scania's National Fleet Manager Steven Alberse.
Keeping Brisbane Beautiful
Cleanaway's Brisbane operation uses 12 Scania R 560 V8 trucks to tow 33-tonne payloads in high-volume, B-double, side-tipper trailers, as well as six Scania G 480 six-cylinder models to pull 22-tonne loads in single rear ejector trailers.
"We safely and efficiently transported 500 kilotonnes of waste over 1.2 million kilometres throughout capital city traffic in the first year of the contract," says Cleanaway Landfill and Logistics Manager Shannon Gorman. The Scania multi-combination bulk waste transport vehicles have positively and decisively improved the operation's productivity, efficiency, and safety, Gorman says.
Scania Innovation
The Scania R 560 V8's Euro 6-compliant versions range from 450 to 730 horsepower (336 to 544 kilowatts). They come in low or normal day cab and low, normal, or highline sleeper configurations. The G 480 truck family offers 280 to 500 HP (209 to 373 kW) in short cab, day cab, or sleeper editions.
As prime movers, the Scania trucks come in 4x2 to 6x6 variants, including a 6x2/4 model with a steerable tag axle. Both the R 560 and G 480 come with either eight- or 12-speed transmissions.
Scania's telematics and other technologies have allowed Cleanaway to "increase uptime, improve safety, and reduce whole of life operating costs," according to Gorman. They also give the waste collection firm the opportunity to analyse its operators' driving behaviours such as anticipation, coasting, gear shifting, acceleration, braking, and running costs. Scania's Driver Support System scoring system, vehicle monitoring system, and Scania Communicator have afforded Cleanaway a chance to improve driver efficiency and fuel economy.
Absolute Visibility
"In the first month of operation the data-rich output we were receiving was confronting," Gorman says. "For the first time ever, we had absolute visibility of how our trucks were being driven on the road and to be honest it highlighted some inefficiencies." Scania provided driver training, after which fuel consumption decreased and driver scores rose. "It crystallised the 'true value' of a good driver to us," says Gorman.
The Scania trucks also came with safety features such as advanced emergency braking, electronic stability control, lane departure warning, adaptive cruise control, and a smart camera system.
Related Articles
Scania and ATA launch guide for prospective owner drivers
View Details
Scania to offer ready to work trucks in Australia
View Details
Valuable fuel savings driven by the new Scania Opticruise with performance modes
View Details
Henrik Henriksson to become Scanias new President and CEO
View Details
Scania to unveil its new truck generation
View Details
Scania links up with Ericsson to test 5G mobile technology
View Details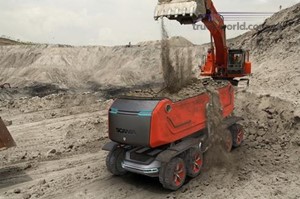 Autonomous transport solutions open up a world of opportunities Scania
View Details
View More News
View all Related Ads